By Ken Moore Cora Lynn broke a 22-year premiership drought with a 47- point win over Lang Lang in the 2008 Ellinbank and District Football...
By Nick Creely Like many of the wonderful volunteers in our sporting rich region, Wayne Delaland has an unbridled passion and love for his community. The...
Gazette photographer STEWART CHAMBERS received such high-praise for his 'nicknames' article a few weeks back that we've decided to let his creative juices run...
If the league contenders needed a reminder if who was the best side in it, Ellinbank certainly sent that statement on Saturday. Yes, Nilma Darnum...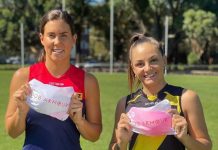 By David Nagel Libby Birch is universally admired for her elite football skills but the Melbourne AFLW star wants her pre-game routine to be something...
While a Beaconsfield star continues to be the runaway leader, there are several names that keep popping up as the top 10 begins to...
Amber Clarke has turned heads when playing for the Dandenong Stingrays. But as a junior, you can never forget your roots, the club that helped...
Talk about a breakout game. He had threatened to do it in recent weeks, especially in his last outing against Footscray, but Mitch Cox (Narre...
By David Nagel The two previous champions of the West Gippsland Football Netball Competition (WGFNC) have raised the bar to new heights to set up...
By Nick Creely The AFL Outer East football and netball competition is set for a return this weekend, with a number of changes set to...
By David Nagel Surely, we can trust the senior coaches and support staff in the West Gippsland Football Netball Competition (WGFNC) when they fill out...
Local football and netball leagues are taking varying approaches to dealing with the impact of the seven-day circuit-breaker lockdown that caused a cancellation of...