Nationals Gippsland MP's are accusing the state government and the Australian Football League (AFL) of ignoring grassroots football and netball. Eastern Victoria MP Melina Bath...
Pakenham's dangerous and congested Cardinia Road level crossing will be a thing of the past by 2021, with construction to remove the intersection set...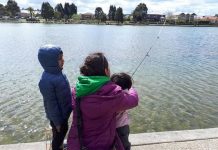 Fishing television personalities Rex Hunt and Lee Rayner will head to Pakenham Lake to lure and hook the young and old by providing expert...
Motorists say they are fed up with the deteriorating conditions of Healesville-Kooweerup Road. It's gotten so bad, a number of drivers refuse to use...
The State Government Legislative Council's Legal and Social Issues Committee is inviting community members to share their views and ideas on addressing homelessness in...
The Department of Education has thrown their support behind a staff member who restrained a student during a mass brawl involving up to 20...
The state government is being called on to strengthen laws and protect farmers from vigilante style animal activists. Gippsland farmers and agriculture producers gathered at...
A new campaign championed by Aligned Leisure under the Together We Can banner is shining a light on gender equity in sport. The idea for...
A cast of 50 students from Waverley Christian College in Narre Warren South is preparing for the school's latest production of Beauty and the...
Pakenham police are appealing for public information in regards to a recent theft. At approximately 1.45pm on Wednesday 7 August, three unknown females entered a...
A Pakenham scout has achieved one of the highest possible honours, thanks to years of hard work and dedication to his crafts. On Saturday 10...
The Department of Environment, Land, Water and Planning (DELWP) is inviting expressions of interest from community members who would like to play a key...