The Pakenham line continues to fare as one of Metro's worst performing lines, with trains failing to meet targets every month of 2019. Statistics...
The community is invited to attend the 2020 Cardinia Shire South Sudanese Community Day at Deep Creek Reserve in Pakenham on Saturday 1 February....
Richmond Football Club's newest stars rubbed shoulders with the future of the game during a kid's clinic in Beaconsfield on Tuesday 21 January. Premiership players...
A man crashed a stolen Landcruiser into an embankment in Caldermeade, and then allegedly attempted to steal the vehicle of a passer-by who had...
More than 900 volunteer firefighters across Pakenham, Berwick, Bunyip and Lang Lang have received new structural firefighting helmets. The state-wide rollout will equip members with...
More than ten vehicles were required to bring a "fully involved" garage fire in Kooweerup under control. Emergency services were called to a property on...
Plans to build a Kaufland store in Pakenham won't come to fruition, after the German giant chain announced they'll be pulling out of the...
The Gembrook Leisure Park, which received support from all levels of government, is officially open to the community. Politicians put on their play shoes for...
Cardinia Shire's 2020 Australia Day Award nominees were announced at a VIP Nominee Reception on Monday 20 January. Cardinia Shire Council Mayor Jeff Springfield congratulated...
Pakenham residents are some of the friskiest in Melbourne. And because Pakenham is where all the action happens, it was crowned one of the sexiest...
The surprisingly comfortable win by sitting La Trobe MP Jason Wood in last year's Federal Election may now be tainted by the sports rorts...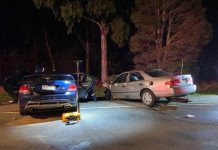 A woman and three children were left injured following a hit-run collision in Pakenham on Tuesday 21 January. Police understand a silver Toyota sedan, believed...