Treasurer Josh Frydenberg has paid a visit to Berwick this morning to announce the extension to the federal government's HomeBuilder program, which will help...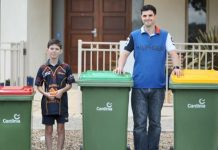 Residents are encouraged to do the right thing and use the right bin when disposing of household waste. Cardinia Shire Council Mayor Councillor Brett Owen...
A Kooweerup wildlife shelter is seeking volunteers to help in the rehabilitation and release of injured and orphaned wildlife. Penny Reeves has been running The...
An historic church in Cardinia could be revamped for a new purpose after it was put on the market six weeks ago. The church, located...
Three young men have been arrested by police this morning, after they allegedly stole a car and led officers on a pursuit through Pakenham...
Commuters can expect some changes to their travel this weekend, the Department of Transport has warned. As part of ongoing Metro Tunnel works, buses will...
A woman believed to be in her fifties has been injured in a three car collision on the Cardinia Road ramp, just off the...
All parents know that the caring doesn't stop when our kids turn into young adults. Sure, we step back a little and loosen the reins...
All sorts of organisations, including local councils, are learning to adapt and transform in this digital age as the times keep on a changin'...
Police say multiple tips from the public led them to begin searching along the Great Alpine Road at Mount Hotham for information surrounding missing...
A number of residents who live near Kennedy Creek in Pakenham have raised concerns about the maintenance of the waterway, with fears that the...
'Why would someone enter a town they can't exit safely?' is the question Lang Lang locals have been asking for years. In an effort to...