There is no escaping the fact it will be a bittersweet 2020 Sportsbet Pakenham Cup on Saturday that somewhat mirrors the transition of society...
Those who doubt the progress the Warragul Industrials are making on their quest for sustained success in the brutally competitive West Gippsland Football Netball...
The West Gippsland Cricket Association and Dandenong District Cricket Association will combine to form an Under 17 girls competition this season, further strengthening female...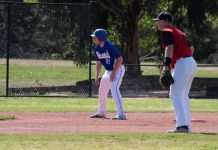 Berwick City Cougars ace Craig Barnett is itching to throw down the first pitch of the Baseball Victoria Summer League Division 1 season. The 26-year-old's...
Hard Style Rico will retire to stud after climbing greyhound racing's Mount Everest. Pearcedale-based trainer Luckie Karabitsakos has confirmed that his superstar local dog will...
Simon Told Helen will start favourite in what is shaping as one of the great editions of the TAB Melbourne Cup at Sandown Park...
WGCA PREMIER DIVISION REVIEW - ROUND 2 The current era's Kooweerup and Pakenham sides may just have the best local cricket rivalry the Gazette has ever...
Berwick Netball Club is inviting existing and interested players back to pre-season training, following the easing of the Covid restrictions which saw a premature...
The Gippsland Storm Elite Development Netball Club will this weekend host the last round of training sessions at Holms Park Reserve in Beaconsfield. After the...
Jason Batson has the self-proclaimed nickname 'Deadpool', because - like the famous Marvel character - you can't kill him. He'll talk that up that to...
WGCA PREMIER DIVISION REVIEW - ROUND 1 The Demons threw down the gauntlet on the opening day of the West Gippsland Cricket Association's Premier division season...
The first week of hub life on the court in Queensland was a rollercoaster ride for the Southside Flyers in the WNBL. From the highs...