The Pakenham Warriors should be in the early rounds of their new era in the Big V basketball competition. Their senior women's side - the...
At a time when each passing day brings with it far more questions than answers for everyday Aussies, AFL Outer East has moved to...
By sports editor Russell Bennett Racing will resume today at Pakenham Racing Club's Racing.com Park following confirmation that jockey Mark Zahra tested negative for Covid-19. The...
For a trailblazing group of female senior cricketers at Longwarry, next season won't be about wins and losses. First and foremost, it'll be about...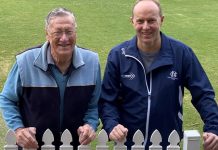 In this special edition of Beer O'Clock, sports editor Russell Bennett headed along to Arch Brown Reserve to learn from Berwick Cricket Club historian...
DDCA TURF 2 AND 3 REVIEW - GRAND FINALS Dingley will return to the top flight of the Dandenong District Cricket Association after bringing home the...
WGCA OTHER GRADES REVIEW - SEMI-FINALS B GRADE Aura Vale has booked a date with Clyde in the B Grade grand final this weekend. The Lakers over...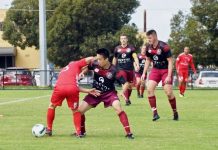 The Bunyip Strikers continued it's amazing FFV Cup run, heading to Essendon Royals in Round 3, but ultimately fell short in a brave performance....
AROUND THE GROUNDS WDCA - SEMI-FINALS It will be a 2016/17 grand final rematch in the Warragul District Cricket Association as Western Park and Hallora will...
NAB LEAGUE DANDENONG STINGRAYS SEASON PREVIEW 2019: BEST AND FAIREST: Hayden Young DRAFTEES: Mitch Riordan (mid-season draft Gold Coast Suns), Hayden Young (Fremantle), Cody Weightman (Western Bulldogs), Sam...
The Hawks Netball Club launched its 2020 Victorian Netball League season recently. The Hawks are supported by, and affiliated with AFL club, Hawthorn. Hawks Netball president...
WGCA PREMIER DIVISION REVIEW - SEMI-FINALS The WGCA's two biggest powerhouses had their work well and truly cut out for them at stages over the weekend,...