Just one week of training with a world champion transformed Mitchell Leek's mindset and inspired him to become an undefeated professional boxer on the...
The stories were flowing thick and fast at Tooradin on Saturday as some legends of the past celebrated the 50-year reunion of the most...
AFL OUTER EAST NETBALL REVIEW PREMIER DIVISION Beaconsfield and Olinda Ferny Creek remain the only two teams undefeated, as both the Bloods and the Eagles registered...
Korumburra-Bena has handed reigning champion Tooradin-Dalmore its first West Gippsland Football Netball Competition (WGFNC) defeat with a stunning 69-55 victory at Westernport Oval on...
Berwick is slowly acclimatising to the little things that count in its new surroundings after the Wickers made it back-to-back wins with an 18.7...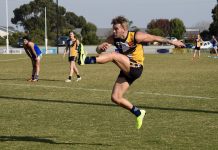 AFL OUTER EAST PREMIER DIVISION COACHES AWARD - ROUND 3 Round Three was a fascinating round for the context of the premier division, some coaches agreed,...
It's the end of an era! James Nanopoulos' glorious tenure at the Dandenong Cricket Club has come to an end, with the electrifying all-rounder joining...
By Tyler Lewis It's not just on the football fields or the netball courts where volunteers play such a special place in club life, with...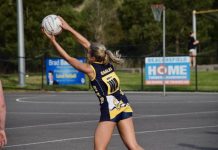 There weren't many sitting on the edge of their seats during Saturday's round of netball, with big margins separating the winning and losing sides. Beaconsfield...
Sport is always better when there's something important riding on the line and there'll be no shortage of ammunition when Nar Nar Goon welcomes...
She's come from humble beginnings at Holm Park to the big stage of the AFL Women's. And Beaconsfield product Tyla Hanks has capped off a...
Lang Lang Rifle Club has a long-range view when it comes to paying respects to the Anzacs with the club going full-bore recently to...