A pigeon on death row has been spectacularly saved after the Federal Agriculture Department deemed him no biosecurity risk.
Joe the pigeon hit the headlines after he landed in an Officer backyard on Boxing Day.
The man who found the emaciated bird, Kevin Celli-Bird, became fascinated by a blue tag on the pigeon's foot, which later revealed that he could have flown 15,000 kilometres from the United States of America.
Mr Celli-Bird discovered that Joe may have belonged to a man from Montgomery, Alabama, and had gone missing after flying from a pigeon race in Oregon on 29 October.
The remarkable story captured the attention of international audiences, but it also prompted the Federal Department of Agriculture, Water and the Environment to take action.
A day after the story broke, the Department called Mr Celli-Bird and said the bird would need to be destroyed because of a "direct bio-security risk to Australian bird life and our poultry industry".
"Birds arriving from outside Australia can carry a range of diseases of concern for domestic birds – including our $3.7 billion poultry industry and native birdlife," a Department spokesperson said on Thursday night (14 January).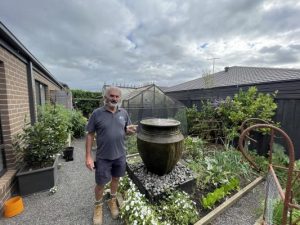 By Friday, the story had turned political, with State Health Minister Martin Foley urging the Federal Government to "show a little bit of compassion" for the bird.
A reporter quickly interjected: "Like the compassion you're showing to Victorian residents in Brisbane and Sydney?"
"I'm pretty sure we're not planning to euthanise the people from Victoria in New South Wales, so I would take great exception to that," Mr Foley fired back.
The response from Acting Prime Minister Michael McCormack was less accommodating.
"If Joe has come in a way that has not met our strict biosecurity measures then bad luck Joe. Either fly home or face the consequences," he said.
Liberal La Trobe MP Jason Wood pleaded with his own party to find a resolution which would keep the bird alive.
"If it is confirmed that this bird has actually come from America, I find it pretty rough for him to travel 15,000 kilometres only to be euthanised. It's a death sentence for all his hard work," Mr Wood said.
"In saying that, I totally support that biosecurity must come first, but as an animal lover, I'm seeing with the Minister's office if we can get it quarantined and find a resolution."
Animal Justice Party MP Andy Meddick also hatched a plan to save Joe, named after incoming American president Joe Biden, by launching a petition to have his death sentence scrapped.
The story travelled to the UK, with BBC TV presenter Simon McCoy tweeting: "There is a campaign to save Joe the pigeon from the gallows. He has relatives in Trafalgar Square. And we want them re-united."
By mid-afternoon, the legitimacy of the blue band around Joe's leg was questioned by the Pigeon Rescue Melbourne, who said the bird was Australian.
"He's definitely from Melbourne. It's just a self-identification tag on his leg, but it might be a fake tag, which some people buy from eBay," organisation spokeswoman Lars explained to the Gazette.
"The biggest thing is that Joe is not the risk they think he is. He is a normal pigeon. We have a lot of evidence to show that he's not a threat."
That theory was later backed by the American Racing Pigeon Union, who labelled the band a "counterfeit".
"The true band is in the U.S. worn by a Blue Bar, not the pigeon featured in news photos about Joe. The pigeon found in Australia sports a counterfeit band and need not be destroyed per biosecurity measures, because his actual home is in Australia," the organisation said.
On Friday night, the Australian Department concluded that Joe "does not present a biosecurity risk" given the high likelihood he was in fact an Aussie.
"The department is satisfied that the bird's leg band is a fraudulent copy of a legitimate leg band," a statement read.
"No further action will be taken by the department in relation to this matter."