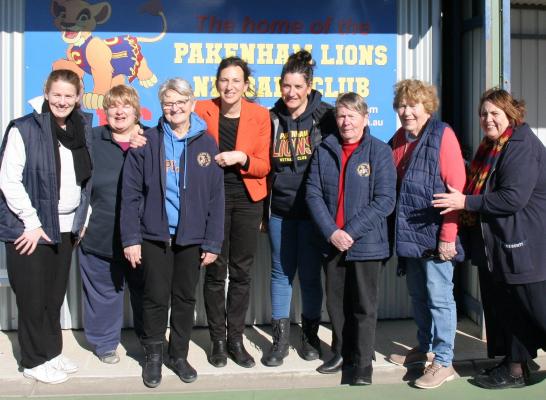 A long list of local sporting clubs have been selected to receive a State Government grant to maintain operational viability and roll out an easier return to play.
Thirty-two grants of $1000 have been approved for a number of clubs in the Bass electorate from the government's Community Sport Sector Covid-19 Survival Package.
The successful clubs in Cardinia and Casey include:
• Berwick – Strikers Cricket Club
• Casey Crusaders Rugby Club
• Catani Football Club
• Catani Netball Club
• Catani Tennis Club
• Eastern Rebels Cricket Club
• Gippsland Storm State League Netball Club
• Kooweerup Motorcycle Club
• Kooweerup Netball Club
• Lang Lang Cricket Club
• Lang Lang Football Club
• Lang Lang United Soccer Club
• Pakenham Bowling Club
• Pakenham Lions Netball Club
• Phillip Island Cricket Club, Football Netball Club, Swim Club, Golf Club and Soccer Club
• Wonthaggi – Adult Riding Club, Bowls Club, Croquet Club, Pony Club, Table Tennis Association, and Tennis Club
• Bass Valley – Pony Club
• Corinella – Bowling Club
• Dalyston Football Club
• Inverloch – Bowling Club, Stars Soccer Club, Surf Living Saving Club and Swell Mamas
These are the first grants from the State Government's $40 million community sport package that will make it that little bit easier for clubs to support players and volunteers start to train together again and look to a return to competition.
"Sporting clubs are the heart of our communities and this support will help them pay the bills and make an eventual return to play that little bit easier," Member for Bass Jordan Crugnale said.
"Ensuring community sport and active recreation organisations survive this crisis and come back better than ever is critical to our economic and social recovery, and to our community's physical and mental wellbeing.
"We know that people in our community are keen to get out on the park and represent their local club more than ever – we're working hard to make that happen and give local clubs the help they deserve."
The Covid-19 Survival Package has four categories: grants of up to $350,000 for large state sporting associations; grants of up to $200,000 for smaller state sporting associations, regional sports assemblies and academies and other state sport and recreational bodies; grants of up to $15,000 for associations and leagues; and grants of $1000 for individual clubs.
Applications will be accepted until 15 June 2020, or until the funding allocation is exhausted.
For further information and directions on how to apply, visit sport.vic.gov.au/grants-and-funding.