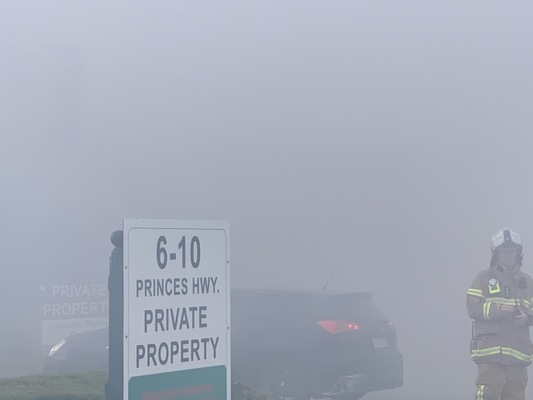 Emergency crews are at the scene of a shop fire in Beaconsfield.
Fire crews were called to the shops, opposite the Emerald Road on the old Princes Highway, just after 3pm.
The fire is not yet under control, with 12 vehicles responding. A smoke caution has been issued for surrounding streets.
The Princes Highway has been closed between Beaconsfield-Emerald Road and Wood Street. Police are controlling the scene, bystanders have been moved on and people are asked to avoid the area.
CFA, police and ambulance were attending.
A witness described the scene as "mayhem".
He said the fire had ripped through a group of shops on Princes Highway, opposite the Central Hotel, and looked to have taken hold in an antique shop, then moved to other premises.
"It's very hard to see anything at the moment because of all the smoke," he said. "It's just mayhem. There are fire trucks everywhere and it looks like they have just closed off the highway."
A local shopkeeper said they saw "heaps" of smoke,
"We rushed out and saw the antique shop was on fire.
"The whole shop was on fire and there was a lot of smoke, with the wind picking up, it's just blowing everywhere.
"It's pretty bad, I saw one person come from the shop, I don't know if it was a worker. He looked OK but was in a lot of shock."