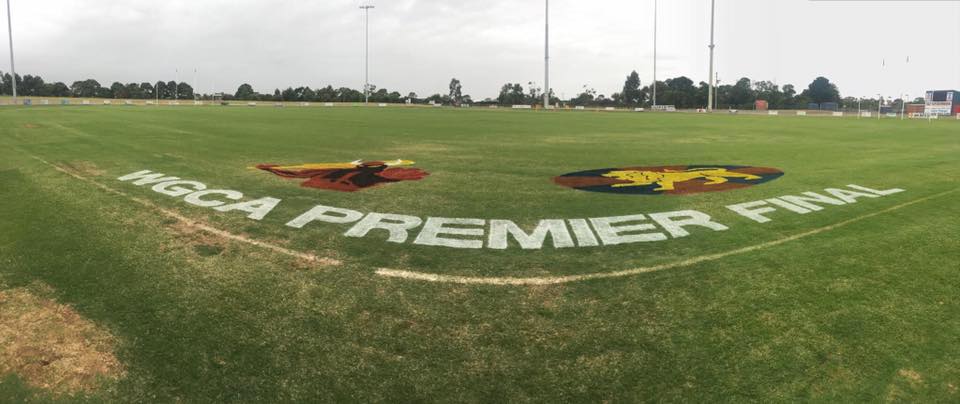 WGCA PREMIER DIVISION
PREVIEW – GRAND FINAL
By Russell Bennett
Respect.
That's what underlines this great current day rivalry between two of the strongest, proudest, most prolific premiership-winning clubs of the West Gippsland Cricket Association.
It's a respect that goes both ways, and one that's hard-earned – over not just years, but decades.
But it's not over-blown – it's not built up to epic proportions. It's genuine.
These Demons and Lions have something else in common too – a genuine belief that, no matter what, they can come out on top against any opposition on the biggest day of the season.
Versatility, unwavering leadership, commitment to the cause, and depth from the first player picked to the last – these are all common traits of the two sides.
The Lions prevailed in a grand final for the ages at Toomuc Reserve last year, and now the stage has been set for the rematch at the Demons' lair.
It couldn't possibly have been scripted any better.
Demons captain Mark Cooper will be playing in his first grand final for the club this weekend, after years of going head-to-head with Kooweerup as Cardinia skipper.
"History says these two clubs are really good rivals, and they've matched up well over a lot of years," he said.
"We respect them hugely, and they're the reigning premiers for a reason.
"Both on and off their field they're a very strong club and they're led really well as a unit by Dom (Paynter), Rob (Elston), and (club president) Phil Anning.
"They've also got a lot of local boys in their side, and so do we."
From the Demons' perspective, Cooper spoke about the side's improved depth with both bat and ball this season.
"In the past Koowee probably relied on too few with bat and ball, but this year we've got a few more options," he said.
"Who we match up with on any given week could determine the (batting) order and how we play.
"It's all about the situation at hand for us."
Cooper said the Demons had tried to match the 'benchmark' set by the Lions last year in that regard, and also in the leadership standards set by the likes of Paynter, Elston, and Jason Williams.
This weekend, without giving too much of the game plan away in the build-up to the decider, Cooper emphasised the importance of early wickets with the ball, and having key wickets in hand for as long as possible with the bat.
Significant to both will be Kooweerup's willingness to adapt on the fly.
Cooper knows better than most just how superb Kooweerup's record of standing up in big games is, and he puts that down to the culture of the side – set as much by the likes of former champions Michael Giles and Shane Dole as current stars Matt Davey and Chris O'Hara.
He paid tribute to some of the group's youngest players – including Mitch Cammarano who played a key role with the willow late in the home-and-away season – as well as some of its more established veterans such as Paul and Matt Bright, who were made to earn their place in the side this season.
They both worked their way up, without any fuss, and were justly rewarded for their strong form in the Demons' second XI.
That's the way it's done at Kooweerup – regardless of track record or prior achievements, each player is prepared to sacrifice his own game for the betterment of the team.
"I'm just one cog in the journey this group has been on," Cooper said, adding that the existing culture at the club made his job as its leader that much easier.
Pakenham is also blessed with strong leaders and a culture of one in, all in. It's no coincidence these are the two top sides fighting it out for the ultimate prize yet again.
Skipper Dom Paynter acknowledges his side had struggled to maintain its best form at certain stages this season, but the key is the level of cricket the Lions are playing right now – when it matters most.
"We've got the chance to go back-to-back but this is on their turf, and they've got new leadership," he said.
"The tables have turned from last year when you look at our positions on the ladder, and playing at their ground.
"Last year's was a really enjoyable game to be a part of and that won't change this week.
"Both sides are about the cricket, and they let that do the talking."
Paynter said facing an in-form Kooweerup in a grand final was the competition's ultimate challenge.
"They're always capable of playing great cricket when it matters most," he said.
"And Coops – his is a real thinking man's game. He's in the action all day.
"I think this is a harder challenge for us this year (than last) because this is the one currently before us.
"I'm sure we're not the same challenge for them either. Whether it's easier or harder – that's up to them.
"We're going to have to fight for every wicket against them and we know that a low run-rate (from them) doesn't mean we're on top.
"Early wickets and not letting partnerships develop will be the key.
"With the bat we both play a similar brand of cricket.
"Our big indicator all year has been batting the 80 overs."

HEAD-TO-HEAD IN 2016/17
Round 3 (One-day): Draw (washout) at Toomuc Reserve, Pakenham.
Round 12: Kooweerup (179) d Pakenham (149) at Kooweerup Rec Reserve.

POSSIBLE LINEUPS
Kooweerup
Mark Cooper (captain)
Chris O'Hara
Ben Spicer
Jess Mathers
Chris Bright (wk)
Matt Bright
Matt Davey
Cody Miller
Mitch Cammarano
Paul Bright
John Bright
Pakenham
Chris Smith
Tom Tyrrell
Zac Chaplin
Chris Savage
Dom Paynter (captain)
Jason Williams
Rob Elston (wk)
Sean Gramc
Jack Anning
Darcy Jones
Thom Jones

THE TIPSTERS
Brett Armitage (WGCA president): "It's difficult to split them – they're two excellent sides – but I think Pakenham has a bit more batting depth, which probably gives them the edge at this stage."
Aaron Avery (Tooradin Premier player-coach): "I'm tipping Pakenham. Both teams have match-winners throughout, both teams have been there and done it, and at the end of the day it will come down to who wants it more. Koowee has been fantastic all year but I think the Lions will get the job done. Good luck to all involved."
Neil Barfuss (Cardinia Premier skipper): "I will tip Kooweerup. They have so much experience in finals and playing big games. Pakenham needs to hold every half chance for them to win (and) a big game is needed from Dom (Paynter) for them to come out on top. I'm predicting a thriller."
Clinton Marsh (Emerald Premier quick bowler): "Runs on the board in finals builds automatic pressure – 200 can feel like 250 when you're chasing. For me, whoever bats first and posts 200 normally wins but Pakenham showed they can chase under pressure, which is confidence building, plus their fitness and depth will help after a long year of cricket."
AJ Walker (Emerald Premier skipper): "Pakenham for me, but only by the barest of margins again. Having won a tight one against Tooradin will hold them in good stead. The stronger bowling attack of Pakenham will be the difference in my opinion."
Dylan Cuthbertson (Merinda Park Premier player-coach): "What a game we're in for! In my mind, Kooweerup has been the best team all season and would be looking to avenge that defeat last season. Pakenham have showed maturity this season by all 11 players on the team contributing and after that fantastic chase last weekend against Tooradin their confidence will be high. It's really hard to choose a winner with the talent both teams have. Mark Cooper has led Kooweerup fantastically this season as a player and coach. Dom Paynter has also been great for Pakenham in his captaincy and has showed excellent form with both bat and ball recently. I believe the winner will be decided at the toss of the coin on Saturday but I'm going to back Pakenham to go back-to-back after watching them chase down 200 last week. Best on ground – Chris Savage."

OUR PREDICTION
The more things change, the more they stay the same. The Demons and Lions have returned to the big dance off the back off their established core line-ups from previous seasons, but it's the inclusions to both teams this season that could prove the biggest difference-makers.
When it comes to inclusions this season, there's none bigger or more significant than Mark Cooper.
A standout leader in every sense, he's also led the Premier division in a brilliant season with the willow.
He provides the calming influence all the great leaders have – including Paynter – but has added a fresh set of ideas to a revitalised Demons lineup.
The battle of the Kooweerup top order – including Cooper, Chris O'Hara, and another newcomer in Ben Spicer – versus Pakenham's impressive seam bowling arsenal could well determine this war.
Key to the Lions' chances will be one of their own new inclusions for 2016/17 – Tom Tyrrell. He's relished his opportunity at the powerhouse club and established himself as Premier's form line and length bowler.
The Demons were clearly stung by last year's grand final result, and have bounced back with a vengeance. With just the one loss for the season to this point, they deserve to go in as favourites and should win in another classic.