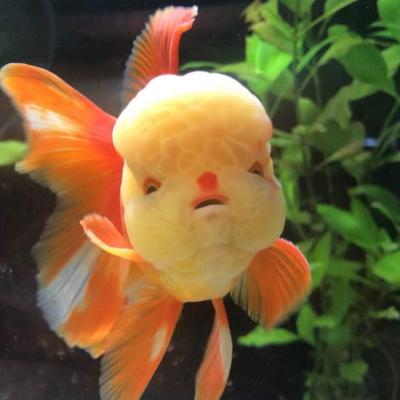 During lockdown, our pets have been a constant source of light in our lives – and one local goldfish has been delighting people far and wide with his cute, fishy features.
Brian the oranda goldfish calls Pakenham home and with his chubby cheeks and adorable little 'clown nose', has risen to international fame over the past year, amassing almost 18,000 followers on Facebook.
His owner, Bianca Henderson, said that it had been quite the surprise to see how Brian had taken the internet by storm.
"Brian's Facebook page started as a bit of a joke – a friend suggested it, as they thought it would be funny, but he overtook both our business pages [in popularity] in a few weeks!" Ms Henderson laughed.
"It's pretty funny really."
Being a groomer by profession and with many pets at home, Ms Henderson said that she had always been passionate about animals and when she saw that Brian was for sale back in April 2020, she just "had to have him".
"I was breeding fighter fish and was looking to get more from a website where they import unique fish from overseas, and I saw Brian and just had to have him," she said.
"He came from China originally and he's an oranda goldfish.
"They're not that common here, or at least they weren't that common in Australia when I got him, and they are known for having these big fat cheeks – but there are not that many with markings like his."
With his little 'grumpy' face and cute 'clown nose', Brian quickly gained a celebrity status on Facebook and Ms Henderson said that many people had reached out and asked if they could buy Brian – but he had already become a beloved part of their family.
"I often get messages from people offering a lot of money for him, but I will not part with him, I love that fish so much," she said.
Ms Henderson said that she had chosen the name 'Brian' for him as he "just looked like a Brian" and he enjoyed a wonderful care-free life in his eight foot aquarium with plenty of his fishy friends.
"With goldfish, people seem to think that they can live in a bowl – which couldn't be more wrong," she said.
"They need large fish tanks so that they can grow – Brian's pretty big now, he's about 20 centimetres long already."
With the right conditions and plenty of space, oranda goldfish can grow up to 31 centimetres in length and can live up to 15 years – so it looks like Brian still has a number of good years ahead of him!
To keep up to date with Brian's antics on social media, head to https://www.facebook.com/briantheoranda or you can visit his website at https://briantheoranda.com/