Emma Mickle was hiking in New Zealand in January when a large tree branch fell on top of her, breaking 20 of her bones.
The freak accident left the Cockatoo woman with a damaged skull, as well as a broken jaw, clavicle, humerus, wrist, hand, ankle and six broken ribs.
On top of all that, one vertebra completely burst which caused pieces of bone to impact her spinal cord, leaving her with a spinal cord injury.
The fractured clavicle also damaged the nerves that supply her right arm, therefore limiting most movement.
"Lucky for me, my legs are back moving and getting stronger each week," she said.
"I'm now fully independent with daily tasks but everything just takes me three times as long as I'm still adapting to one-armed life.
"I'm still unable to work or drive but I'm planning to get back to both when I can."
Ms Mickle said she doesn't remember much of the first four days following the accident which included multiple emergency surgeries and a lot of ketamine induced hallucinations.
After two weeks, she was flown home by medical rescue to the Austin Hospital Spinal Unit in Melbourne.
When stable, Ms Mickle was taken to the Royal Talbot Spinal Rehab where she spent the next three months.
"I'll never forget the day I arrived at the Talbot. I was hoisted from bed into a wheelchair and pushed into a room full of other patients in wheelchairs. It was the first time I actually processed I had a spinal cord injury," she said.
"I made friends with other patients whom had been told they'll never walk again. They were genuinely good people whose injuries were far more serious than mine and it's a massive impact on their entire family and really hard to see.
"I thought the best way I can help is to support research to get that cure quicker."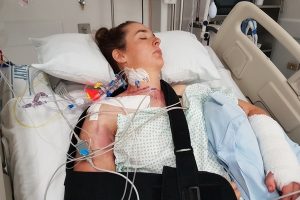 Come December this year, Ms Mickle plans to jump on her bike and ride from Cockatoo to Canberra via the hilliest route she can find to raise money for Spinal Cure Australia.
Spinal Cure Australia is a non-for-profit organisation that advocates and funds research for spinal cord injuries.
"I decided I wanted to support them and raise some money so I thought I'd do a bike ride as an incentive for people to donate," she said.
"Now my legs are back moving and getting stronger, I feel I have to make good use of them.
"Almost 1000 kilometres and over 12,000m of elevation will certainly prove a challenge for this one-armed giraffe."
Ms Mickle started a GoFundMe page about two weeks ago which has already received more than $10,000 in donations.
"The support has been incredible! In less than two weeks we hit the $10,000 fundraising goal.
"Now we've started, may as well keep going!"
To donate to Ms Mickle's cause, go to: https://www.gofundme.com/f/riding-for-spinal-cure-australia