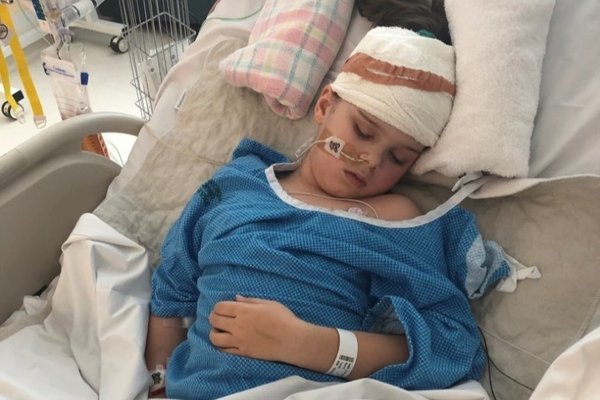 A caring young Berwick girl has been left with brain damage after a "simple" surgery changed her life forever.
Eight-year-old Taylah Burns remains in the Monash Children's Hospital, unable to speak, move or eat, after a procedure, which was meant to relieve her of headaches, went horribly wrong.
Her heartbroken family is now coming to terms with the reality that their daughter will be reliant on full time care for the rest of her life.
Father Cameron Burns told the Gazette the ordeal began in November last year, after Taylah started complaining of headaches.
"We got her eyes checked because we thought she might have needed glasses," he explained.
"The eye specialist said she needed to go to emergency straight away … They said she had pressure behind her eyes."
An MRI scam revealed a non-cancerous cyst on Taylah's brain and within three days, she was on the operating table for a procedure to release the pressure caused by the cyst.
That surgery went well, and within days, the lively youngster was back to her usual self, her father said.
Taylah, a studious girl who never missed a day of school, had only just moved to Berwick Lodge Primary School.
By Easter, the pressure of the cyst had returned, and little Taylah was again ordered to have the same surgery.
"That's when everything went sour," Mr Burns said.
"From what I understand the drill was supposed to go into the skull about five to six centimetres, but it went in about 15 to 16 centimetres, maybe five times."
In a statement, Monash Health said their thoughts were with the child and her family.
"A full review involving an external expert will be established, and Safer Care Victoria has been advised," a spokesperson said.
"We continue to provide care for the child and support for the family."
Taylah's mother Melanie remains by her daughter's bedside in hospital, while Cameron remains at home with their other daughter, four-year-old Olivia.
Having organised a "shift system", Melanie spends Monday to Friday in hospital, swapping with Cameron on the weekends, so she can spend time with Olivia.
Due to Covid-19 restrictions, Olivia hasn't been able to see Taylah. She knows that her big sister has a "sore brain".
Taylah is expected to remain in hospital for the next six to eight weeks, depending on her development, but the ordeal has meant the family has lost half their income.
Their Berwick home will need to be modified to accommodate her condition and the family have to source a vehicle which can house her wheelchair.
Once Taylah is stable and travel restrictions have eased, the family intends to relocate to Sydney to trial a new technology that stimulates the brain's damaged pathways.
"For Taylah to have the therapy in Sydney, this will cost in excess of $100,000 alone," Mr Burns said.
"This therapy treatment could take up to six months to get the best outcome which would mean we would need to be in Sydney for this entire time."
A GoFundMe page has been set up to raise much-needed funds. In just two days, the page had totalled almost $33,000.
"We are so grateful to the community, our friends and family. The support has been bloody great," he said.
The Burns family have since sought legal advice.
"I would love to be filled with anger and hate but it's not going to do anything for Taylah, I've just got to swallow a lot of things," Mr Burns said.
"I feel absolutely devastated but this isn't about me, it's about her.
"I just need to do everything in my power to look after her. I couldn't control that surgery but I will do everything that I can do now to control what happens next."
To donate to the family's GoFundMe page: www.gofundme.com/f/fvu8ts-treatment-for-taylah.