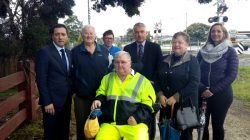 By Bonny Burrows
A railway level crossing causing traffic chaos on Pakenham roads needs to be upgraded now, according to State Opposition Leader Matthew Guy and Bass MP Brian Paynter.
The pair heightened their calls for the McGregor Road level crossing, described by Mr Paynter as a "nightmare" for local road users, to be widened in "an easy" but important fix.
The politicians argue that the construction of the rail depot in Pakenham East and the increase in trains that will come would only add to congestion at the crossing and along McGregor Road.
At a visit to Pakenham on 12 September, they said the crossing, along with Main Street and Racecourse Road's crossings, should have been removed to coincide with the construction of the rail depot.
Mr Paynter said traffic congestion due to the crossings was already the "number one" concern within the community and argued that this congestion would only increase in time.
He criticised the State Government for not being prepared for the major increase in rail traffic that the Oakview Lane depot would bring.
"How can it not be a problem now if you're building a train depot in Pakenham East," Mr Paynter said.
"They haven't removed one (a crossing) this side of Dandenong. The three crossings should have been done together with the train depot."
Mr Guy echoed Mr Paynter's calls, and urged the government to "package it all up and do it properly".
But it's not just the rail depot adding to community concerns a fatality was just "waiting to happen".
According to Mr Paynter, it is estimated that population growth will lead to 32,000 vehicles travelling along McGregor Road each day by 2021.
Resident Lynda Coad, who lives in the nearby Heritage Springs, said she was often left waiting for up to six minutes at the crossing while trains passed.
The wait was then extended as the resulting bottleneck, which she said was often backed up to the Heritage Springs Shopping Centre, cleared.
As Pakenham grows Ms Coad believes so too will the wait.
"Six minutes doesn't sound like long but you're at a standstill," Ms Coad said.
"And then you've got people taking risks and weaving in and around cars to try and squeeze through. It's dangerous."
Mr Paynter said it was important those who felt similar signed his petition to lobby the State Government for the upgrades so he could bring the issue to parliament "again and again" until the community's concerns were heard.
"We can no longer sit back and say it's OK," Mr Paynter said.
"Residents are calling for this upgrade and it's desperately needed."
The Gazette contacted Transport Minister Jacinta Allan to find out whether an upgrade or removal of the crossing was planned but did not receive a response.
Mr Paynter's petition can be found at https://www.surveymonkey.com/r/mcgregorroad.