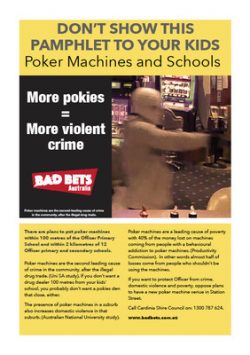 By Bonny Burrows
Campaigners against the controversial pokies venue planned for Officer have defended the distribution of "graphic" anti-gambling flyers depicting domestic violence and increased crime at the school gate.
Bad Bets Australia has been long protesting against an application for a pub with 80 poker machines at 2 Station Street, Officer. However, its recent use of the confronting pamphlets has drawn criticism from the State Education Minister and Parents Victoria.
Education Minister James Merlino has slammed the distribution of the flyers, which along with the graphic images read "more pokies = more bashed women" and "more pokies = more violent crime", at local schools.
"I do not support the distribution of these pamphlets near schools and the materials should not be shared with children," Mr Merlino said.
The minister's criticism has been echoed by Parents Victoria executive officer Gail McHardy who questioned why schools were chosen as the distribution point when "the campaign pamphlet clearly stated 'don't show this pamphlet to your kids'."
But Bad Bets Australia spokesman Rohan Wenn said it was important parents were aware of the development proposed for a site within 2km of 12 schools, and the impacts it would have on the local community.
The campaign has the support of national leading gambling expert Dr Charles Livingstone, who said while perhaps confronting, the information provided was factual.
A recent survey of 135 Officer residents conducted by Bad Bets Australia revealed 79 per cent were unaware of a study linking gaming machines in a community to higher rates of domestic violence.
"For a long time, people have possibly assumed there may be a link, but we now have a study from the Australian National University that clearly shows more pokies in a suburb means there will be more domestic violence in that suburb," Dr Livingstone said.
Dr Livingstone also pointed to research from the University of South Australia which concluded that poker machines were the second leading cause of crime in the community after the illegal drug trade.
"Just as you wouldn't want a drug dealing setting up in your neighbourhood, you probably shouldn't want a poker machine venue setting up in your suburb also," he said.
Mr Wenn said precautions had been put in place to ensure children weren't exposed to the images.
"The pamphlets are only given to adults, and every parent, or carer, is asked verbally and in writing not to show the images to children," Mr Wenn said.
Mr Wenn queried the backlash from the minister when both sides of government were in "no position to make credible comments about the gambling reform."
"Let's get this straight – James Merlino opposes the distribution of anti-pokies pamphlets near schools, but he doesn't have a problem with putting 80 poker machines within 200 metres of Officer Primary School," Mr Wenn said.
"What does the government worry about more, the pamphlet about the addictive and potentially deadly machine, or the actual machine?"
Mr Merlino did not comment on the content of the flyers, but said there were other ways for children to be taught about potential impacts of gambling.
"We support education about gambling including through the Victorian Responsible Gambling Foundation's Love the Game School Education Program, which empowers students to challenge the normalisation of gambling," Mr Merlino said.