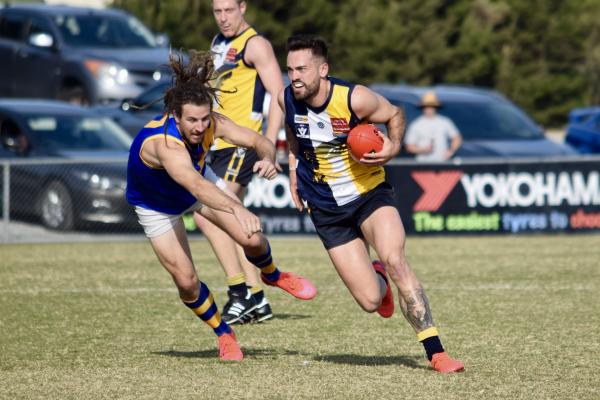 AFL OUTER EAST PREMIER DIVISION
REVIEW – ROUND 2 (MATCH OF THE ROUND)
Saturday's blockbuster at a rapid Holm Park came down to the little moments.
Searing runs from Lachie Modica, the vice-like hands of the great Marc Holt, the gut running of Nick Battle and the stinginess of Brandon Osborne were some of the features of Beaconsfield and Cranbourne's cracking contest.
In the end it was off the boot of Hayden Brough after a spectacular grab that sealed Beaconsfield's 12.8 (80) to 12.5 (77) win.
But you suspect this won't be the first and last thriller between the two powerhouse clubs this season.
It was high-quality, fierce, but fair local footy.
Almost finals-like in many ways.
The Eagles have now passed two major challengers – Narre Warren and now Cranbourne – as they enjoy life under Mick Fogarty.
He told the Gazette it was a cracking game of football.
"We've had two strong opposition games (to start the season)– they (Cranbourne) played hard, strong footy and moved the ball very quickly," he said.
"I'm pleased with our ability to respond, and like we should missing 15 months of football. We're hungry for the contest.
"It could have gone either way, it was a cracking contest between two strong clubs.
"Both sides played in horrid conditions last week and then we get a fast game, so we both had to adapt. We were rapt."
It was all Cranbourne early as Steve O'Brien's group surged out to an 18-point quarter time lead, sparked by the dangerous Marc Holt who kicked two early majors with two pieces of utter class.
Moving the ball with freedom, Cranbourne's ability to sharply move the ball was on show, with the likes of Luke Bee-Hugo, Ryan Jones and Glenn Osborne picking up some influential touches, but Beaconsfield were well served by star mid Nick Battle, who slotted two opening term majors in a destructive quarter of footy.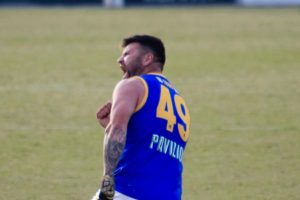 As the game wore on, Battle was simply immense and made something out nothing on numerous occasions.
Eagles skipper Brandon Osborne was also putting together a superb game, locking down on VFL-listed Matthew Johnson and wearing him like a glove.
Sean Dwyer was perhaps the firestarter early in the second quarter, snapping one through from the pocket, with the Eagles starting to really lower their eyes inside 50 to create more avenues to goal.
Suddenly, almost in the blink of an eye – courtesy of a classy cameo from Jake Bowd (two goals) – and two pieces of magic from the talented Jafar Ocaa, the Eagles were in front by two goals, which eventually became seven after Marc Holt converted his fourth major on the stroke of half-time.
Momentum swung rapidly in an entertaining second-half, where the lead was traded rapidly and the contest never really giving an indication of which camp the four points would eventually land in.
The third quarter had some particularly brilliant moments as both sides cracked in and made the most of its chances, and with some more Marc Holt magic, Cranbourne snatched back the lead by six points at the final change.
Frenetic was probably the right word to describe a thrilling final term.
In the opening minutes, Matthew Wilson took a strong contested mark before duly levelling up the scores, but the home side peppered the goals to no avail, Cranbourne swiftly rebounded with Holt snaring his sixth major as he loomed as the match winner.
In what was the most electrifying moment of the game, the prodigiously talented Lachie Modica produced a searing run through the middle of Holm Park, taking four bounces and delivering a lasor-like pass to Sam Merrick who strolled into an open goal.
It was a moment laced with serious class.
Kirk Dickson almost trumped Modica only moments later to steal the lead back for Cranbourne with a banana from the pocket as the crowd erupted.
But the roar was even louder as Hayden Brough delivered the knockout blow for the home, flying high to reel in an absolute screamer, before coolly kicking the matchwinner major from 35m out.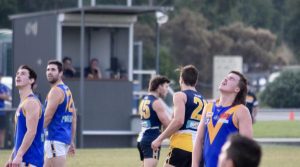 Fogarty had no doubts that the talented Brough could deliver a defining early-season moment for his side.
It's been a mantra of his – when the moments come, don't hesitate, grasp it with both hands and back yourself in.
"How often do you get moments like that? When you get a moment, you have to take it," he explained.
"Using a sporting analogy, If you're fielding in slips you want it to come with you – we had some big moments on Saturday, and that was one of many.
"I'm not surprised he could do that – without sounding harsh, I expect them to finish their work with the ability he's got.
"Sometimes it doesn't work, but you want to take the moment. And he did."
There was plenty to unpack from an absorbing contest.
One of the major features of Beaconsfield's strong start has been a strong spread of goalkickers, particularly in its midfield group, with three multiple goal scorers amongst seven goal kickers in total.
"You've got to have an even spread these days, you can't rely on one or two fellas," he said.
"Our forward line is holding up, and we hope our mids can contribute on the scoreboard."
There was plenty of eye catching displays on the day – Tylah Stokoe was absolutely brilliant and among the top handful of players on the ground, Damien Johnston looks like he is playing in slow motion at times, while Jafar Ocaa did some remarkable things.
But two standout – Lachie Modica and Nick Battle – who with their run and creativity were major factors in the result.
"I've said to our group, there's a lot of players with ability, but we need to be wary of structure, and Nick fits in well," Fogarty said of Battle.
"He works really hard on his body, and is meticulous with his preparation.
I've got no doubt he'll be a terrific player for us."
On Modica, who is on Casey Demons' VFL list, Fogarty said he was a rare talent.
"I haven't seen anyone in my coaching aside from Jack Sketcher (Noble Park star) with that
elite speed out of contest and he has that in spades, he takes it on, and he is working on his finishing," he said.
"His training at Casey is really enhancing him – to gain that knowledge and bring it back, it only helps us."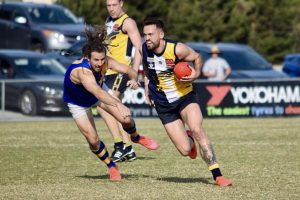 Now 2-0 and with Doveton this Saturday, Fogarty said his group was taking it week-by-week.
We couldn't be happier with the start – it's a marathon, we've got to qualify at the business end of the year, and where we finish the season starts then," he said.
"It is early, we've only got 16 games and if we're lucky we go through, it's a bloody long year.
"It's the last week of the three-week block, so hopefully we tick this one off.
"For me personally, it's just to learn the competition – we've got another one of our three-week block and then we'll reassess."