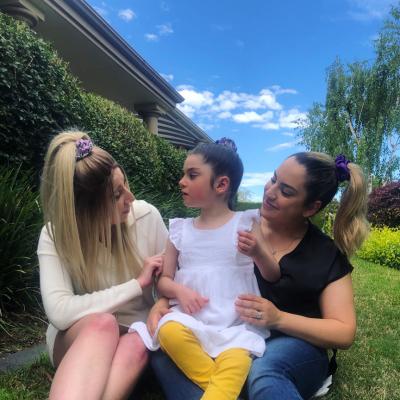 In an effort to raise awareness and funds for a cause close to her heart, one local jewellery maker is creating beautiful pieces that not only accessorise any look perfectly, but will also help make a difference to those living with a rare genetic condition.
October is Rett Syndrome Awareness month and in honour of this, Cockatoo's Jessica Barkley is going above and beyond to help those impacted by the disorder – inspired by her beautiful niece Ella, who lives with the condition.
Almost exclusively affecting girls, Rett Syndrome is a rare genetic neurological disorder that leads to severe impairments and affects nearly every aspect of a child's life; including their ability to speak, walk, eat and even breathe easily.
Having watched her seven-year-old niece Ella battle the condition almost her whole life, Ms Barkley said that it was a debilitating condition, but Ella was still such a beautiful and lively little girl, just like others.
"Basically, your body just starts to fail you," Ms Barkley said.
"It's not an input problem though – [those with Rett's] still understand everything, but they just don't have an output."
"Ella is 7 now, and she can tell us whatever she wants using her eyes, she has no issue of understanding – she's basically just like you and me but she doesn't have the same physical capabilities," she said.
Caused by mutations on the X chromosome, Rett Syndrome varies in severity from person to person and while those living with the condition rely on carers to help them in day to day life, many still live to middle age and beyond.
Ms Barkley, a young creative, has watched the condition take its toll on her niece over the years and decided that this year, she wanted to do something extra special to raise awareness.
"It's very hard watching Ella regress, and it's a scary thing to watch someone you love go through," she said.
"There's lots of trials and research going into possibly life changing things like improving the quality of life for girls with Rett's, and I wanted to be able to do whatever I could to help."
With this in mind, Ms Barkley came up with the idea of selling her beautiful homemade jewellery in order to raise funds and awareness for the condition – and to help Ella in her own way.
"Being in lockdown, obviously I couldn't go over and spend time with her, so this is my way of doing something special for Ella," Ms Barkley said.
"I have made jewellery before but just as a little hobby, it was nothing serious, but I thought it might be a way to get the message across."
Since sharing her fundraiser on local Facebook noticeboards, Ms Barkley has made countless pieces and managed to raise over $1,000 for the International Rett Syndrome Foundation – a fantastic achievement.
"I started doing this for October [being Rett Syndrome awareness month], but I think this will be a forever thing for me now," she said.
Another creative friend has joined Ms Barkley and is now making purple scrunchies to sell for the fundraiser (as well as the handmade jewellery), with all proceeds going to help girls with Rett's and research into the condition.
"I think offering the incentive of a gift in return has made a lot more people donate and pay attention to the fundraiser," Ms Barley said.
"I just can't believe the response I've gotten!"
Most of Ms Barkley's jewellery and the scrunchies are purple – which is the colour of Rett Syndrome awareness month and a symbol of "bravery and strength" – but jewellery can be made in other colours if people wish.
"I love Ella so much, she's just the sweetest and most affectionate little girl, and I hope this helps in some small way," she said.
For more information about Ms Barkley's fundraiser, head to her jewellery page at https://www.facebook.com/lagatacollection