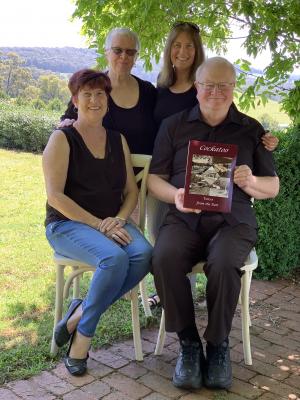 A Cockatoo history book has been shortlisted for a prestigious statewide community history award.
Cockatoo – Voices from the Past, a book that outlines the rich and diverse history of Cockatoo, is in the running to win the Victorian Premier's Community History Award.
More than 37 years ago, historian Dot Griffin felt the need to preserve Cockatoo's past.
After Ash Wednesday devastated the small country town in 1983, she came to the realisation that a lot of Cockatoo's history had been physically lost.
"I realised that a lot of the town's history had been lost due to the destruction of hundreds of buildings," she recalled.
"Particularly our community hall which had housed for many decades, minute books and photographs of former committee members, as well information about other groups which had existed during the early years of Cockatoo's growth.
"Also, many people left the area immediately after the fire and with them went their memories and photographs."
Ms Griffin took it upon herself to collect as much early history as she could from older residents who remained in Cockatoo and from those who had moved away.
She visited about 17 families over two decades, from 1983 to the early 2000s.
Using an old tape recorder, she interviewed the community members to collate as much historical information as possible.
"I started to transcribe the tapes but soon realised that with the continual stop start of the cassette player that I was stretching the reels and destroying the history," she said.
"So I just put them away in a box as I didn't know how else to transcribe them."
In 2011, she met Arthur Wintle, a history teacher who lived in Cockatoo.
Ms Griffin recalled Mr Wintle believing the tapes were too valuable to leave and that they warranted transcription.
He applied for a Public Record Office grant to have the tapes professionally digitised for preservation and then transcribed.
Mr Wintle met Ruth South that same year when the community was fighting to save the old Cockatoo Kindergarten from being demolished.
A keen photographer and Mr Wintle asked Ms South to join him at a Victorian Collection workshop run by Museums Victoria.
From there, Ms South began uploading photos of Cockatoo and a few donated historic items onto the Victorian Collections website.
The passionate photographer collected hundreds of photographers along the way, is the curator of the photographic collection, and chose the photographs and designed the front cover for Cockatoo – Voices from the Past.
A Facebook page, called Cockatoo History and Heritage Group, was also established by Ms Smith.
About a year later, in 2012, Ms Griffin spoke with Jan Shaw, a passionate amateur historian.
She offered Ms Shaw the opportunity to help with a short, one-off project, cutting pasting articles into a scrapbook from local newspapers.
Ms Shaw agreed, completed the project, met Mr Wintle and Ms South and during the course of the year, found herself doing the formatting and layout of the transcriptions.
Originally, Ms Griffin's said the project's purpose was just to collect and preserve Cockatoo's history.
"But the typed interviews became so interesting and such a great read that it was only in recent years we decided to publish a book," she said.
The winner of the Victorian Premier's History Award will be announced online in October as part of History Month.
Ms Griffith said she, and the group, felt "very excited" to be shortlisted for the awards.
"We were all very excited as this was a project started 37 years ago and was never intended to be a book," she said.
"Even four years ago we didn't think of turning it into a book but now to see that it is shortlisted, well, we're thrilled.
"Personally, I am blown away but as a group of four non-professional writers, we are all very proud that the committee thought our book was worthy of shortlisting."