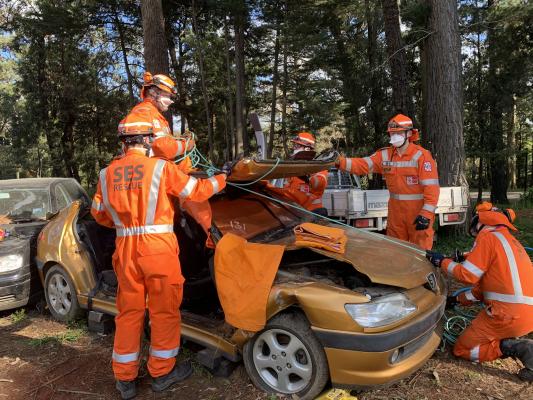 The team at Emerald SES Unit have been working hard over the past few months to keep the community safe and well.
In order to do so, volunteers have had to dedicate endless mornings, afternoons and nights to training and learning new skills.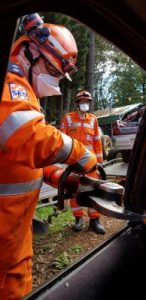 Crews spent Sunday morning at a skills maintenance training session where they learnt all about road rescues.
They practised a vehicle stabilisation with side door removal and a roof fold, in case they ever need to access and carry out a patient on a spine board.
"We're keeping ourselves ready to respond when the community needs us," Emerald SES volunteer Rob Fazzino said.
Since the beginning of this year, Emerald SES has responded to more than 1200 requests for assistance.
"We are expecting heavy rains and floods in the coming months," he added.
Last week, the volunteers in orange were called out to a motor vehicle accident where two cars collided on Gembrook Road.
Crews arrived on scene about 5.30pm on Thursday 17 September.
One of the vehicles had crossed over into the path of the other, before colliding head on, Mr Fazzino recalled.
Emerald SES deputy controller Jess Rice was faced with the crash on her way home from work, making her first on scene.
She assisted in the rescue and helped both drivers out of their cars.
Police and CFA arrived on scene and Ambulance Victoria took two patients to hospital, one via Air Ambulance from the Gembrook Football Oval.
On Saturday 19 September, a man got his foot stuck in an excavator track in Selby.
Luckily, SES crews were able to safely free the man.
Following the incident, Emerald SES Unit received a letter of appreciation from the man's family.
The letter read, "I just wanted to express my thank you on behalf of my family and dad about how grateful we are to have such an amazing team nearby.
"The whole team was completely amazing in being able to extract my dad so quickly and safely, and also comforting myself, my mum and little sister.
"Even in a world dictated by social distancing, it was beyond comforting to be given a hug from a few of the members of the Emerald SES once my dad was safely taken into the ambulance."
The heartfelt letter ended with, "My dad had a guardian angel watching over him on Saturday as he only sustained bad cuts to his foot, and a badly broken ankle that will need a few operations to mend.
"But we are forever grateful to your team, and now my dad can look forward to his rehab so he can walk me down the aisle in six months time."