Roving testing squads and government "doorknockers" will travel across the Cardinia Shire, as residents are urged to limit their movements after the area was deemed a Covid-19 "hot spot".
Health Minister Jenny Mikakos announced on Monday morning, 22 June that the State Government would step up its community engagement across the local government area (LGA).
"We are very concerned about the level of transmission in those particular locations," Ms Mikakos said.
"We acknowledge the challenges with some communities, for whom English may not be their first language, in understanding the public health message.
"We want to make sure that people are receiving this message regardless of their English language proficiency."
Ms Mikakos said the State Government was looking to establish more testing sites in Cardinia, and flagged public places such as libraries and carparks as potential temporary locations.
She added that government employees would also travel out to the area to consult with various community members.
"They will be people clearly identifiable as public health officials who will be able to provide the community in those hotspot locations with more information and advice about symptoms," Ms Mikakos said.
"This is about being nimble and responding to where we have hotspot locations. We have been concerned that some people may be taking some risks with their health and the health of others by still going out in the community."
The Australian Health Protection Principal Committee (AHPPC) released a statement on Sunday night, "strongly discouraging" travel to and from six LGAs, including Cardinia and Casey, until control of community transmission had been confirmed.
Ms Mikakos said she welcomed the statement but said a strict lockdown hadn't been issued for the six areas.
"We haven't ruled anything out but we haven't put any stay at home directions in place for those areas," she said.
Cardinia Shire Council mayor Jeff Springfield said there hadn't been a "great deal of clarity", adding he wasn't aware of where specific testing sites would be located.
As of Monday 22 June, five active cases of Coronavirus have been confirmed in the Cardinia Shire with nine in Casey.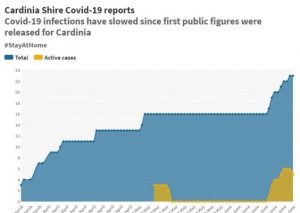 The total number of cases recorded in Cardinia and Casey are 23 and 80, respectively.
Cr Springfield said he wasn't aware of the specific locations of all active cases but said he understood they were located in and around the Central Ward.
When asked if he thought the State Government needed to provide greater transparency, he said specific suburbs should be mentioned.
"I think if there's going to be any directives towards mitigating our behaviours then we need to know exactly where these cases are," Cr Springfield said.
"Our Shire is huge at nearly 13,000 square kilometres … if we're going to target an area, we need to simplify it."
The mayor said it was important that everyone followed current government direction to avoid a second wave of the virus.
"We have and will continue to support the efforts and follow government advice to slow the spread of Covid-19," he said.
"We have a great community – a resilient community – and what we need to do now is 'keep it up', 'keep following the guidelines' and all continue to do what we can to 'slow the spread'."
In a statement City of Casey Chair of Administrators, Noelene Duff said the council would continue to work with health experts to achieve the "best outcome" for the city.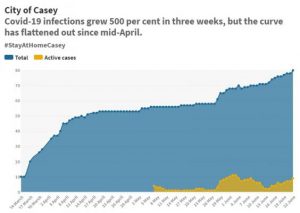 "The City of Casey has, and will continue to do whatever we can to support the efforts to stop the spread of Covid-19, and will comply fully with the advice, orders, and directions from State Government health experts," Ms Duff said.
"The Department of Health and Human Services has all the information about the active cases in our city. They will determine any measures introduced surrounding these cases are appropriate and necessary in the context of how and where these Casey residents contracted the virus, and any other measures necessary to protect the health of Victorians as a result."