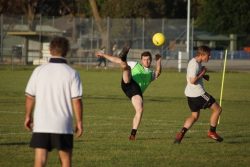 By Nick Creely
A new and exciting tournament for local soccer lovers in the off-season is in the latter stages of its first season, with teams from far and wide competing.
The O'Brien Real Estate World Cup tournament, which is a six-a-side competition played out at Bunyip Recreation Reserve every Wednesday night, is an innovative way to bring diverse communities together through sport by drawing on inspiration from international sport.
"We have eight teams in the competition in the World Cup format and they all pick a country to represent, so everyone plays each other essentially – on 29 November, there will be finals, and a presentation to follow," tournament organiser and Bunyip player Jody Cooper said.
"The teams are Wales (Trafalgar), Brazil (Pakenham), Argentina (Berwick), England (Pakenham), North Korea (Bunyip), Faroe Islands (Pakenham), Kazakhstan (Pakenham) and Germany (Drouin)."
With the finals to begin shortly, Cooper hopes the newly formed tournament – which is a celebration of the government grants handed to the Bunyip Strikers' facilities – will continue to grow into the future as more teams look to enter.
"It's been a real success, I've been pleasantly surprised – it's been so diverse, with teams from Pakenham all the way to Trafalgar – it's widespread, and everyone's really enjoying it and buying into it," he said.
"It's added a bit of colour and excitement (to the region) – most people have taken a step back during the off-season and taken it easy, so it's kept a bit of interest going for the sport.
"It's brought new faces from around the area to Bunyip – it's looking real promising down there for our club.
"Hopefully it can continue to grow into the future."
With 20-minute halves making it a fast and energetic format of soccer during the warmer months of the year, the competition is competitive, and attractive to those looking to keep fit and have fun.
Only two rounds before the finals on 29 November, Wales and Kazakhstan are currently occupying the top two spots.