By David Nagel
SEFNL – GRAND FINAL REVIEW
Relentless and ruthless domination has been the signature move of the Berwick Football Club in 2017 and the hallmark of its 47-point victory over Narre Warren at Holm Park Reserve on Saturday.
Grand final day provided rookie-coach Stewart Kemperman and his side with the perfect opportunity to rubber stamp an unbeaten season in the style it knows best – by sucking the life out of everything!
And it didn't waste the occasion, producing a performance that showcased its eternal legacy of suffocating every living morsel in its path.
The Wickers squeezed the life out of the most potent attacking force in the competition, rendering it useless against the best defensive unit in the 13-year history of the league.
Some have come close, but no team has bettered the Wickers average concede of 44 points per game this season.
Narre Warren, well it had the better of the opening exchanges, looking sharp early, taking advantage of its red-hot form and the Wicker's initial rustiness after a week off.
Stewart Scanlon led the way in the pressure stakes for the Magpies, who hit the scoreboard first through Dean Kelly.
But Berwick responded, and responded in the fashion of a great team, kicking the next eight goals and keeping the Magpies under wraps for close to an hour.
Tim Gunn launched the assault with two long bombs, aided by the breeze, followed by Jarrod Kemperman and Bryce Rutherford, before Will Arthurson's goal made the biggest statement of the first term.
Not only did it kick the Wickers out to a 22-point lead, but space was found far too easily – the squeezing was starting to take its toll.
And Berwick's second quarter, against a fading wind, was typical of its overall versatility this year.
Just as they did against Cranbourne in the second semi-final, the Wickers turned their attention from an open style of play to a more circumspect method around the stoppages.
Gun midfielders like Madi Andrews, Bryce Rutherford and James Magner absorbed the Magpies best shot, helped by the ruckwork of Kemperman and Andrew Morozoff, while defender Michael Johnson was starring in defence.
In the absence of the injured Michael Riseley – Johnson's value was immeasurable.
Berwick kicked 2.3 to 0.3 in the second term to extend its margin to 35 points at half time and then began to tick down the clock to just the eighth premiership in the club's history.
Rutherford went bang, answered by two quick salvos from Hayden Stagg, before Gunn and Ash Smith had the engravers ready and waiting.
Smith's signature goal – clinical from long range at the 21-minute mark – broke the Magpies spirit, with goals to Arthurson and Harry Money finishing off the job. Gunn finished with four, and Money three for the winners, while skipper Andrews was a thoroughly deserving winner of the best-on-ground medal.
The last quarter, well it was the longest of Narre Warren coach Heath Black's career.
"It was a great effort to get there but that last quarter was the longest quarter of my life," Black explained.
"We tried to get a great team to stumble, we tried to apply external pressure, but their ability to absorb the pressure of going in unbeaten, to stick to their systems and defeat an opposition over 120 minutes, well it was very impressive to say the least."
Black said several things stood out for him about Berwick on Saturday.
"We felt like we had our fair share of possession in the first half, but their defensive net killed us, they played an open game and built a lead before turning it into a stoppage war, and with two minutes to go they were still screaming at each other in the back line," he said.
"A great defence, the ability to score, great structures and a willingness to work hard … what more can you say."
As for Stewart Kemperman – well he thoroughly deserves the last word for the season.
A premiership in his first year of coaching, the moulding of a team that averaged 99 points for the season and conceded just 44 – eerily similar to Saturday's scoreboard.
And only twice did they have 10 goals kicked against them this season – by unlikely sources in Doveton and Pakenham – while their two biggest challengers could kick no more than three goals against them in a quarter.
Statistically … the Wickers are as good as any team of the last 13 years.
"The defence is probably my little baby, but the credit goes to the players for buying into it," Kemperman said.
"They've worked hard and they've brought it to life. I view this group extremely highly, that's my internal view, but I want everyone external to the group to view them that way as well. It was a really good opportunity today to show people how great they are."
The premiership coach said the loss of Riseley was disappointing, but sort of exemplified the importance of the team-first mentality that had been nurtured at the club.
"It's a real shame for Riser, because he's such a star as you say, and he certainly would have added some real value to our team," Kemperman said.
"But throughout the year we've had a real team ethos on everything we do, the way we defend, the way we attack, it's all built on team. Our job as coaches has been to give clarity to as many players as we can because at any given time you could be called upon to play a role … and that's the boat Joey (Jo West) found himself in today."
And the final message from the coach to his players?
"I could go through every player at the club, I couldn't be prouder of them all," Kemperman said.
"And all the support from the club and my family, I'm forever indebted because all the hard work, from many people, has paid off. We've won a premiership together … and it feels fantastic."
SENIORS
BERWICK                      5.1     7.4     13.8      15.9(99)
NARRE WARREN         1.2     1.5     3.6        5.12(42)
Berwick Goals: T. Gunn 4, H. Money 3, W. Arthurson 2, B. Rutherford 2, L. Jellyman-Turner, J. Kemperman, L. Sheppard, A. Smith. Best: M. Andrews, J. Magner, T. Gunn, B. Rutherford, A. Morozoff, M. Johnson.
Narre Warren Goals: H. Stagg 2, M. Soroczynski, J. Flannery, D. Kelly. Best: H. Stagg, D. Jackson, A. Hunter, M. Collins, J. Tonna, D. Quirk.
Best on ground medal: Madi Andrews (Berwick).
THE LEADERS
Leadership is not about a title or a designation – it's about impact, influence and inspiration.
Impact involves getting results, influence is about spreading the passion you have for your work, and you inspire your mates through your actions.
Welcome to Berwick's premiership-winning leadership group of 2017.
From the impact of president Glenn Gambetta and his team, to the influence of first-year coach Stewart Kemperman and his staff, right through to the inspirational on-field leadership of Madi Andrews – the Berwick Football Club has got it right.
And it's a water-tight ship, with evidence of that provided at roughly this time last year.
Kemperman, a legendary figure at Noble Park, had agreed to sign on with the Wickers – but not one rumour, one leak, got out.
It started the journey between coach and club on exactly the right foot.
"It garnered a lot of respect between myself and the club, and about the way the committee would carry itself," Kemperman said after Saturday's epic performance.
"My roots as a junior are at Berwick, I played senior footy with Berwick in the early 2000s, so there's a connection there, but the way that unfolded last year, from both sides, really built a solid foundation and trust."
So why did Berwick, already entrenched as a top-two contender, take a punt on a first-year coach?
"It definitely wasn't a punt," Gambetta said, as the final siren loomed on Saturday.
"We did our due diligence and we knew exactly what we were getting with Stew. Not a just a bloke with a great football head but the sort of person we wanted … he fit the bill 100 percent.
"I'm just rapt for the players and coaching staff because they've worked so hard to get this. I told them on Thursday night to just do it for themselves because they've worked hard and really deserve it. They came with high expectations and they delivered."
Gambetta said he was feeling pressure himself after losing his first grand final as president against Cranbourne last year. His predecessor Simon Curtis had claimed all four flags up for grabs in 2015.
"It's been a bit of a joke around the club, 'get Simon back, get Simon back, we win flags with Simon", Gambetta said, clearly sick of the joke.
"And I wasn't looking forward to becoming the only president to lose two grand finals in a row either. The pressure was right on."
Gambetta was in a reflective mood as he waited for the final siren to sound.
"I'm emotional more than anything," he said.
"The club really took time to recover from setbacks from the past but I think we're on the right track now, we're getting success and not underachieving like many of us thought we were. Really, we're only a small club, with a small committee but a hard-working committee and it's just reward for those people at the end of the day as well."
Gambetta wanted to thank his vice-presidents Simon Curtis and Russell Trait, the club's football manager Bruce Andrews, treasurer Belinda O'Sullivan and secretary Mandy Gunn, and the club's hard-working band of volunteers for their support.
As for Kemperman – well he was keen to share the love as well, starting with his family.
"On a personal level, my wife Aimee has been enormous, with three kids under three, she's just been such a solid rock and without her support and the work she does with kids, to allow me the space to think, the space to work, the time to prepare and go to training, all this wouldn't be possible," he said.
"My old man John has stepped up late to be team manager and my mum Cathryn has stepped up as well, collecting fees and helping out on Thursday nights at the club, just creating a really good atmosphere at the place."
Kemperman said his parents had played a huge role in making him the man he is today.
"They've been everything, you couldn't do it without them," he said.
"From a family side of things, my parents have taught us to put family on a pedestal and have such an enormous amount of respect for one and other. Those lessons in life, like being hard workers, earning everything you achieve, those foundations and values came from mum and dad."
Kemperman agreed that the extra responsibility of coaching gave this premiership a different feel to his previous success stories as a player at Noble Park.
"The feeling is a bit different," he said.
"I'm very proud of being a player and winning a premiership, but it's another level of satisfaction when your boys get over the line and realise their potential. And it's recognition of the team off the field as well.
"The assistants that I've got, like Jason Kelly, Todd Devine, Chris Kyriacou, Stewie Griffin, Leigh Noonan and Matty Castricum, we're not shy in sharing our opinions and that's a really healthy environment to be in. This is all a credit to those guys and what they've put in as well."
Kemperman signed off by thanking everyone at the club, from Gambetta, Curtis, Trait and Bruce Andrews, right through to players, volunteers and support staff.
Gambetta said he was preparing for a massive party to celebrate the seniors and reserves premierships.
"We ordered eight or nine kegs in, but I think we under-ordered, we might have to get a few more in after this."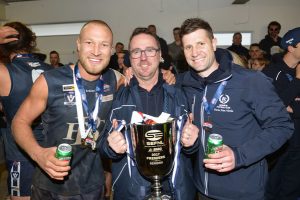 BEST ON GROUND – MADI ANDREWS
Relief and immense satisfaction were etched on the face of Berwick's champion midfielder Madi Andrews after the inspirational skipper had led his side to the most dominant season in the club's history on Saturday.
And Madi's season – well it wasn't that far behind!
In fact Andrews created his own slice of history, becoming the only player in the 13-year existence of the Casey Cardinia-South East Football Netball League to back up a league best and fairest award with a best-on-ground display in the following week's grand final.
The 26-year-old's impact on Berwick is profound.
His two Norm Walker Medals for best player in the league have both coincided with premiership seasons for his club – you don't get much bigger than that. But, as usual, the affable skipper was far more excited about talking his team up than taking individual plaudits.
"Seriously, it doesn't compare, this is what I play footy for and always have," Andrews said from the heaving middle of Holm Park Reserve.
"It feels great, you work hard for it and it's been such a good year for the club and it's really nice to cap it off with a premiership. Our work ethic just continues to grow and that's something we pride ourselves on and it is nice to get the ultimate reward. We were just relentless, and that was our thing today, if we went harder for longer we knew we'd get the job done."
The former Dandenong Stingray and Sandringham Dragon said he enjoyed sharing the last-quarter experience with some of the players that he started his footballing journey with.
"Obviously when you know the game is locked away it's pretty nice to run around and absorb everything that's going on," he said.
"It doesn't happen often so it was really great to enjoy that experience. I put a lot of my heart and soul into the club so it is nice to actually get some reward. These are the guys I grew up playing footy with and that makes it feel even better."
Coach Stewart Kemperman said Andrews was thoroughly deserving of his very-high standing at the club, singling him out first as a key player on the weekend.
"Let's start with the skipper; in my opinion one of the greatest this club has ever seen, if not the greatest player this club has ever seen … he was enormous," Kemperman said.
Let's just leave it at that!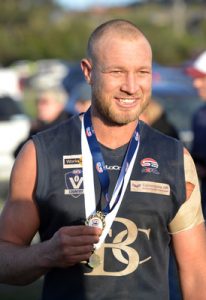 THE PLAYERS
A second premiership success in three years has seen Berwick step out of the shadows to become – without question – the pre-eminent force in SEFNL.
And so dominant in fact – with an 18-0 record – that a potential dynasty is on the cards with rivals clamouring to play catch up.
But even in grand final glory not every cloud has a silver lining, with superstar defender Michael Riseley the unlucky recipient of this year's selection curse.
Each year players miss through injury or are forced out of the side – with a bulged disc in his lower back keeping one of the Wickers most important players on the sidelines.
Riseley was downcast before the game, but more upbeat as he strolled through the middle of the ground to catch up with his jubilant and celebrating team-mates.
"I'm feeling pretty good now, I was flat before the game but feeling good after watching the boys get across the line," Riseley said with a wry smile.
"Unfortunately I couldn't get up for the game but I'm rapt to see them win and win pretty convincingly in the end. I was feeling nervous because Narre had smashed Cranny last week, but the boys were enormous today … I'm rapt for them, I really am."
Riseley's replacement Jo West had mixed emotions after becoming a two-time premiership player.
"This is awesome, I took six months off and went to college and came back fat as f*#k," West said openly and honestly before laughing.
"Struggling, I was really struggling all year but then got my chance and here we are today. I feel for Riser (Riseley), the bloke's a jet, but I'm over the moon right now … it's hard to explain the feeling."
Forward Tim Gunn also made his way back into the team after missing the second semi-final; he kicked four goals, including the opening two to settle his side's nerves in the first quarter.
"Yeah they came off alright and went through, I was pretty happy with those," Gunn said, before comparing this year's success to the one of 2015.
"It's different, there are a lot of new boys in the team and if anything, it probably feels better. Disco (Stewart Kemperman) kept us pretty level-headed so we didn't feel much pressure even though we were undefeated."
For Riley Heddles, the premiership fulfilled his dream of returning to his junior club and enjoying the ultimate success for the very first time.
"Unbelievable mate, it was always a dream of mine to come back to my local club and play with blokes I grew up playing footy with," he said from a buzzing change room.
"The plan was to win a flag with my mates and now I've done it … how amazing is that, I'm over the moon. You just do what you do for your mates and as long as I've got one of these (medals) around my neck … I don't care what I have to do."
Another to taste premiership glory for the first time was former Melbourne AFL midfielder James Magner, who was relishing the sweet taste of success – before he dropped a bombshell.
"Yeah it's my first flag, 25 years of playing football pretty much, it's taken a while, not even a junior one," he said with tears in his eyes.
"I've played in a few losing ones, but this is so sweet right now. It's everything I thought it'd be – in my last game as well. I've got a baby coming up early next year so that's enough for me."
One man who has enjoyed the physicality that Magner has brought to the table this year is club stalwart Andrew Morozoff, who went through the dark times at the club, often playing the role of the enforcer.
He was pinching himself after winning his second flag for his beloved Blues.
"I am mate, I've been dreaming about it a bit lately that we might have a bit of a dynasty coming up and I feel like we showed today how good we can be when we're all switched on and firing," he said.
"Coming up together with these blokes, through a few dark times down the bottom of the ladder, and now to experience this, you just shake your head because it's unbelievable really."
Morozoff said Riseley's misfortune hit him hard at the club's last training session for the season.
"I actually had a little dig at him on Thursday about how nimble he looked, and he turned at me and gave me a look and I thought this must be bad. I just feel for him because nobody deserves to miss out on something like this, especially him, he's such a crucial part."
Riseley's regular partner in crime, Michael Johnson, held the backline together against a Narre Warren side that had him worried heading into the match.
"It's unbelievable, Narre was in some red-hot form and I wasn't quite sure how we'd go to be honest, but to get the result is just amazing," he said.
"It was bit of a hard decision to leave Mazenod and come back, but playing with blokes like Ash Smith, Madi Andrews, Jimmy Magner, what more can you say, they're great players.
Johnson's dad Matt was a champion player at the club and was on hand to watch the action unfold.
"To have Dad here watching, and to wear the colours that he wore, I wouldn't change this feeling for anything in the world, it's just the best," Johnson said.
For Jarrod Kemperman, winning a premiership under his brother made the feeling all the sweeter.
"Yeah, he's done a great job, it feels amazing and to do it under him makes it even better," the ruckman said.
"You can't describe the feeling, it feels fantastic. Blokes tell you what it's like but until you've done it you've really got no idea. This is the first flag I've ever played in, first one, full stop."
Former Berwick junior Ash Smith had the number '2' written on the taping on his wrist, reminding him that a second premiership with Berwick was at stake. He said winning as favourites for the first time proved this was a truly special team.
"It feels great, two's better than one, and going in as favourites, we haven't done that before and it was great to prove things on the biggest stage," Smith said.
"You always think about it a bit, but we had the confidence in ourselves that we weren't going to let it slip away. We've done it all year, we've done it twice to Narre and they hadn't seen our pressure for 10 weeks. We showed them what was up."
Forward Harry Money rated this as one of the best feelings in football.
"It's right up there with kicking a snag or taking a mark I reckon, probably even a bit better," he said, before praising his skipper Madi Andrews for his tremendous work rate.
"Madi's always the first there and the last to leave and that just inspires you to work even harder at training," Money said. "Look out tonight – I don't make it out much but when I do it goes off."
For 18-year-old Will Arthurson settling into a team full of stars was daunting, well initially anyway.
"It was daunting at first but everyone has been welcoming and they back you in 100 per cent," Arthurson said.
"Especially today, everyone's saying to back myself and that support has been amazing. We knew they were a fast-starting team, but once we started well I thought we could take over from there. It hasn't sunk in just yet but it will when I get home tonight."
League MVP Bryce Rutherford was another former junior who was rapt that he made the return from the Casey Scorpions.
"I can't really explain it to tell you the truth; I'm pretty much over the moon, just really happy that we got wins in the reserves and seniors because there's a real one-club mentality," he said.
"It's great coming back to my local club and winning a flag with my best mates. We had to match them early; we had some good midfield clearances and just kept driving and driving until we got the win."
And last, but certainly not least, is Michael Harold, the midfield bull who was talked out of retirement after last year's loss to Cranbourne. The 29-year-old was sucking in every single sweet moment.
"I'm not taking any of these moments for granted because they don't come around too often," the hugely respected Harold said.
"The committee, everyone at the top, you can't win these things without everyone on board. I'm part of a successful era, but I think the whole club has worked extremely hard to make our own luck."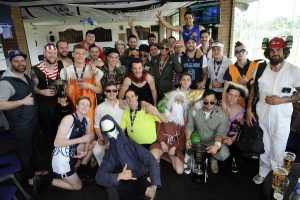 THE RESERVES
The curse of the unbeaten season has struck again with Narre Warren's premiership hopes exploding in a puff of dust in a gripping reserves grand final contest against Berwick, 5.5(35) to 4.3(27), on Saturday.
But spare a thought for the Magpies … because this was no ordinary season.
Sure they had defeated the Wickers on three occasions, but wins by three, three and one point – in very low scoring contests – gave the impression that this one would go all the way down to the wire.
Neither team had scored more than 40 points against the other heading into the big dance!
But it's a trend that looked like changing after the Wickers gate-crashed the Magpies' party in the early exchanges.
Nick Hillard, who would go on to claim the best-on-ground medal, snuck through the Wickers first, followed by another to Jesse Cirilus, and when crafty goal-sneak Hayden McLardy kicked a third the Wickers were out to a three-goal lead after nine minutes of play.
That opening burst – well it made all the difference in the end.
The Magpies fought back as expected – overcoming a serious knee injury to key midfielder Michael McGill – to kick the next four goals and take a seven-point lead into half time.
Liam Myatt kicked two, and Dean Scanlon another, but it was the celebrations after Rhys Dempster's quality finish that gave the impression the Magpies were on top.
Berwick forward Jordy Andrews kicked the only goal of the third term to give the Wickers a two-point lead heading into the title decider.
The Magpies had the breeze and looked good to take home the cup.
But Berwick refused to buckle, and an opportunistic goal to Trent Thomas gave them an eight-point lead that they would never surrender. Coach Leigh Noonan was understandably proud of his players after the game.
"I just feel like a really proud dad at the moment, it's an unbelievable feeling," Noonan said shortly after the siren.
"Narre has been the best team all year, but you only have to beat them once and that's what we did today. They're a great team, and they brought the best out of us and I couldn't be happier right now.
"We fought it out like dogs right to the very end and it all started two weeks ago, where we never gave up against them in the second semi and that's all I could have asked for. I couldn't be prouder of what the boys dished up today."
Hillard was a sensational performer for the Wickers, while Nick Macente and Trent Van Hout were warriors in defence and Jake McLardy put his big-game experience to good use.
Players like Mitch Tonna, Andy Ray, Jack Wheeler and Chris Collins will be bitterly disappointed in defeat, but can be content that they gave their all for the Magpies until the bitter end.
And the final score at the end of the season – Berwick 121 v Narre Warren 120!
RESERVES
NARRE WARREN      1.0     4.1     4.1     4.3(27)
BERWICK                   3.0     3.0     4.3     5.5(35)
Narre Warren Goals: L. Myatt 2, R. Dempster, A. Ray. Best: M. Tonna, A. Ray, J. Wheeler, C. Collins, C. Intveen, C. McNamara.
Berwick Goals: H. McLardy, T. Thomas, J. Andrews, N. Hillard, J. Cirulis. Best: N. Hillard, N. Macente, T. Van Hout, J. McLardy, J. Thompson, T. Andrews.
Best on ground medal: Nick Hillard (Berwick).