By Nick Creely
Matt Chasemore first made a century in 1999 at the age of 16.
He was just a fresh-faced and enthusiastic youngster that had the determination of a champion.
In the case of the talented left-handed batsman from Cranbourne, it was a century that almost wasn't, but it was also a hundred that defined just how his career would pan out.
Chasemore, now 34, said his performance showed him that he belonged at the elite level.
"It was at the 4th XI at Dandenong. I left Cranbourne at 15 and went to Dandy with a mate of mine, Luke Russ, who was probably better than me in our age group," he said.
"I went down there and the skipper of the fourths came up to me at training during the week and said to me that you might want to train with those blokes over the back of the nets – that was where Buckley Ridges' ground is, and I didn't want to do that.
"I trained that night, I said to Luke and his mum that I wouldn't come back.
"I went back to Cranny and made a 40. I then went back down to training at Dandy after being pushed into it and gave it another go.
"They were short in the fourths that week – I batted at about six and pumped out 104 not out – I've played Premier level ever since.
"That was the first century I ever made. I don't even remember who I played, to be honest, but it was obviously significant."
Significant it was in his quest to play for Victoria. He has gone on to make a further 56 centuries across all levels of cricket, an extraordinary feat for the chubby youngster who only had two shots.
"I was obviously a footballer first, I probably got into cricket when I was about 10. I don't remember much before then in terms of cricket.
"A mate of mine, Mark Woodall, ended up being one of the best junior cricketers and his old man got the ball rolling and invited me down," he said.
"I was just a little fat kid, lazy and back then you retired on 20, and I made a lot of 20s, although it was off heaps of balls.
"I had a block and a hook-shot, like every chubby left-hander.
"I haven't got a great memory of what I used to think when batting, I just used to block it and make myself hard to get out, which, I guess, has been the theme of my career, really."
But his hunger for making centuries can be attributed to a former coach he describes as 'incredible'.
"The appetite for making hundreds grew from meeting Warren Ayres, to be honest, who has made the most hundreds out of anyone in world cricket.
"I hate watching blokes batting, so my goal is just to bat as long as I can.
"If you're sitting down watching, normally you have to sit down and listen to people talk shit for hours."
Over his 140-game career with Dandenong, which included more than 3000 runs in the senior side, Chasemore elected to leave the club to work on other areas of his game, but was also hurt at being left out of the 2006/07 premiership side.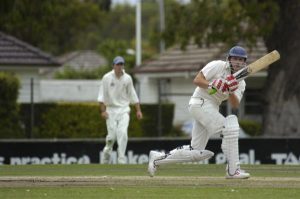 "Probably being a little immature. I played 124 games in a row once I got into the seniors and missed the premiership victory against St Kilda," he said.
"I look back at it now and understand why. I only made around 240 runs for the year and I hadn't been bowling.
At the time I was a bit of a sook and thought it was bullshit. I didn't leave straightaway, but I left after a year."
Cheeks then joined Frankston Peninsula after a conversation with a good friend and former coach of the Heat.
"I made the decision to move to Frankston so I could become an all-rounder," he said.
"I rung up Nick Jewell, there was no recruiting done, it was all down off my own bat, and he was stoked because he loves the way I went about it. When I met him, it sealed the deal for me.
"I don't care what anyone says about Nick Jewell, he is an absolute superstar, a champion.
"He has had his own issues and stuff with players along the journey, but he was a footballer, and he coached cricket as a footballer, and I loved it."
He went on to play in one of the most famous grand finals of all time against Dandenong in 2010/11, and said that the Heat would have won the game if not for some off-field indiscretions.
"It's funny, I hate that game. We had two chances to win and we couldn't do it – we outplayed Dandenong, and took more wickets and made more runs, but lost," he said.
"We probably had some selfish cricketers back then – without naming any names we had some interruptions during the week, some silly off-field things.
"To win a grand final everyone needs to be on board."
But his time at the Heat came to an abrupt and controversial end when he was sacked by the club as the coach during the 2013/14 season over a difference of opinion about the direction of the club.
Interestingly, in his last-game for the club in Round 5 of that season, Chasemore dominated with 6/22 and 74.
He maintains that he will always stand by his thoughts and that it was a messy and disappointing end to his time there.
"I took over from Nick Jewell. I had played with these guys for four years and I looked down and wondered whether they just got comfortable with my personality," he said.
"I had a great winning rate as a captain/ coach at Frankston, and it doesn't really make sense, ever since I've left they've been on the bottom of the ladder, so Nick and I must have been doing something right.
"I had to re-apply for the job that year, which I wasn't thrilled about, and I got Bruce Waldron in, an unbelievable man who will hang around to midnight to help out.
"We had a five-year plan drawn out to set the club up for the future – some blokes over 30 weren't part of that. Whether they like it or not, that's life.
"It was about trying to produce state-players and putting this club in a strong position when I'm done.
"My morals and structures didn't suit everyone – I was massive on fitness and doing things together.
"In my eyes, there was no one in the lower grades that could help these kids get to the elite stage – the idea was that they'd bowl around Scott Boland, James Miller, Jon Holland, Jack Benbow, those guys, and while they're learning we'd protect them and they could watch what we did.
"We had an ageing wicket-keeper at the time, and Rob Salerni, who was the Victorian Under 19s keeper at the time, he was there.
"Ben Ashkenazi, who had just finished playing cricket for the Australian Under 19s, was also there.
"The message from higher than us is not the message the club wants.
"I remember they wanted Scott Boland to open the bowling – I still believe he's not an opening bowler – that's not to say he's not a gun, because he is, but I still believed he shouldn't have got the new ball.
"When Ben Ashkenazi is with me, I'd be able to stand at mid-off and I could talk him through it, and give him the best chance to play state-cricket.
"If you produce enough players to play at state-level, you'll win premierships – that was the idea.
"I still love the place. If I had it my way, I'd still be there. I believe if I was there they'd be a powerhouse of the comp, I honestly believe that."
He then joined St Kilda for a brief and highly-successful stint, and scored a memorable hundred on debut only a week after playing his last game for Frankston.
Coming in at 3/31, Chasemore made a stellar 103 not out in a strong win over Casey-South Melbourne – he rates it among his finest yet.
"It was satisfying because I didn't think I was good enough to play for St Kilda – the aura around the place is incredible," he said.
"To be in the change-rooms and see Rob Quiney, Pete Handscomb, I just thought I wasn't good enough to be here.
"I knew I could play, and I was chasing a goal – there's no coincidence that they've produced so many state-cricketers.
"Some people say to me that it would have been great to stick it up to Frankston and make that ton but that's not the person I am – I was honestly gutted I didn't make the hundred at Jubilee Park, but it was memorable."
Cheeks then made his way back home to Cranbourne after realising his state-cricket dream could be over, to chase an elusive premiership.
He immediately struck gold, winning a Turf 1 premiership with the Eagles in 2015/16, and also taking out the Wookey Medal as the competition's best player. In the grand final against Springvale South, Cheeks' Eagles came from the clouds to win reverse-outright, with the star all-rounder contributing a vital 59 not out on the final day.
"I don't think we were honestly the best team last year, we had the best two players – what we did have is 11 blokes playing for each other at the right time of the year, that's the difference," he said.
"But it was just special, I can tell you that."
As for his nickname, Cheeks decided to keep the origin to himself.
"I've been asked this question for 25 years and for 25 years I've been able to avoid it – I might just keep this mystery to myself," he chuckled.
Chasemore also said that his burning desire to play state-cricket dream may never truly leave him.
"The door hasn't closed – I was chasing a goal of state-cricket and told I wasn't going to be looked at – do I believe I'm good enough? Yep!"