WGCA DISTRICT
TEAM OF THE YEAR
By Nick Creely
The 2016/17 District Team of the Year has been selected based on balance, but it was one tough assignment with so many outstanding individual seasons.
The brilliance of Gavin Britt with the bat for Clyde this season has earnt him selection, while others such as Kane Latham, Brad Miles and Ammar Bajwa continued on with their excellent careers.
John Simpson, the Cougars stalwart has been selected as the skipper of the side – he still had an excellent season on a personal level, but has led the club brilliantly as they chase a flag this weekend against Devon Meadows.
And check out the season of David Collins – averaging almost four wickets per game, which is one special individual season.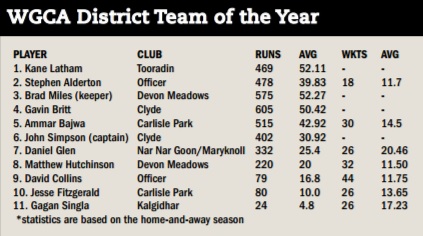 WGCA SUB-DISTRICT
TEAM OF THE YEAR
Selecting the 2016/17 Sub-District Team of the Year was an extremely difficult task, with so many players enjoying wonderful individual seasons.
The captain of the side is Ben Ahern, Catani's skipper who is leading them into a grand final on Saturday.
The openers, Brad Remy and Kyle O'Reilly, have both been incredible, with O'Reilly himself chiming in with 24 wickets to go with his 682 runs.
A great blend of top-line bowlers graced the field this season, with Trent Wheller in particular having a pretty faultless year.