By Nick Creely
Victorian Premier Cricket
Quarter-Final Review
Casey-South Melbourne coach Brian Keogh has urged his players to take the next step in their exciting journey and continue to improve, after the Swans were trundled out of the finals by an experienced Fitzroy-Doncaster on the weekend.
Although disappointed to have lost their first final as a group, Keogh said that his chargers have exceeded expectation and raised the bar for the future.
"We were pleased to make the finals – it's a great achievement considering where we were, but once you get there you get excited and hungry, because you don't know when you'll get back there again," he said.
"I think we're still off the pace a little bit from the best four sides, but we're not far away – the improvement has been significant, but we need to start again next season and that's the challenge of the competition – I hope in a way this loss drives us in our journey forward.
"Next year there's going to be expectation we can keep improving and get back into the finals– why can't we get better and keep improving?
"I'm backing in the same people next year – in round one next year, why can't we have a similar looking side?"
On day one of their clash at Schramms Reserve, the Swans' top order was skittled via some tight bowling on a helpful pitch, which seemed to spit off a length and cause several moments of uncertainty.
The Swans were 5/50, with their top-five all back in the sheds, as Trent Lawford (3/46) continued to cause headaches with his relentless line.
But Dylan Hadfield (62) made his second consecutive half-century, and combined with Nathan Lambden (13), pushed the Swans up to a competitive but perhaps slightly under-par 139.
But the signs were good early, with the Swans taking four early-wickets to place the Lions under immense pressure.
The game was heated in the first two hours, with Brendan Rose in particularly bowling with aggression, and when he removed opening batsman Matthew Frith (20), he got on his face and let him know his thoughts.
With a win on the cusp, class was what was needed for the Lions – and class is what they got – Trent Lawford (63) then guided them home six-wickets down, rescuing them from the clutch of defeat.
"You have to take your chances, and having them 6/88 we were confident, but we were just unable to keep the game on our terms," Keogh explained.
"Credit to them, they are a very experienced and mature outfit who simply played better than us over the course of the two days – we weren't far away, and we felt it could have gone either way."
Leigh Diston (4/69) finished his season a high, while Jackson Fry (2/27) also proved he belonged on the big-stage with an impressive finals display.
Rumours are rife that the Swans could have some players in the pipe-line already for next year, with the possibility that Ryder Medalist Clive Rose will return to the club if he fails to get a state contract at Tasmania, and star opening bat and former Swan James Seymour, who played the second-half of the season in the VSDCA, could also be available.
"We'd love to see Clive get a contract with Tasmania, but he is a Casey-South Melbourne person and we would obviously welcome him back," Keogh said.
"James had one great season with us, and we'd like to think that he believe he is also a Casey-South Melbourne person – they both are, so we'll what happens."
Meanwhile, there is likely to be some soul-searching down at Shepley Oval, with Dandenong falling away in bitterly disappointing fashion to Melbourne.
As one of Premier Cricket's favourites, the Panthers without James Pattinson in a final meant they were already down their best player.
But it was a strong first-day for the hosts, who dismissed Melbourne for 239 and went into stumps at 0/35.
On day one, Adam McMaster (3/80) bowled quickly in replacement of Pattinson, and combined with the returning Justin Butterfield (2/41), James Nanopoulos (2/43) and Peter Cassidy (2/38), put together a strong showing on a belter of a batting deck.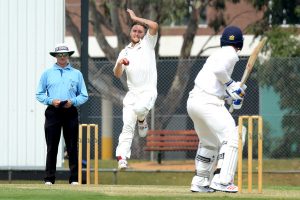 With the par-score of around 300 at Shepley, the Panthers would have been rapt with their day's work, but as cricket finals so often do, things can change instantly.
And the wind changed in dramatic fashion as soon as Tom Donnell and Brett Forsyth strode to the wicket on day two, with Donnell falling LBW early in the day for 18.
It sparked a batting-collapse of 1/35 to 6/68, with Dandy unable to find flow in their batting, with the Demons' bowlers cramping them and continually finding ways to break through.
Cam Forsyth (26) showed some great composure despite the heat applied to him, but the soldiers around him fell away, and they were eventually rolled for 129 off just 53 overs.
It ends a season that promised so much, but delivered so little, with the Panthers needing to continue to build their depth when star players are unavailable for one reason or another.