By Nick Creely
VIC PREMIER CRICKET
REVIEW – ROUND 16 (Day 1)

Casey-South Melbourne is starting to resemble a team built for finals, and after carving their highest score of the season, are one step closer to cementing their place in the eight for good.
Coming into the round with the pressure of finals on their shoulders, Lachlan Sperling elected to bat on a belter of a pitch at Casey Fields.
Their opposition, Kingston Hawthorn, are sitting outside the eight, but still a chance of sneaking their way in to the finals with a strong win.
But six hours later, the Swans strode off the turf in a commanding and imperious position, flaying the ball to all parts to finish the day on 8/356.
After a watchful start from Luke Manders and Devin Pollock, debutant bowler Matthew North broke through, finding the edge of Pollock to leave the Swans at 1/32.
Enter Michael Wallace, who combined flair with natural aggression, and combined with Manders, a compact and traditional opening batsman, started to comfortably find runs all over the ground.
The pair added 118, before Manders (66) was perhaps unfairly adjudged LBW off James Miller (2/47).
But the runs didn't stop flowing as Sperling (80) entered the crease, and despite starting in a watchful manner, looked assured right from the outset.
Wallace (95) was then denied a maiden Premier century after falling to Yasiru Herath (2/70), with the score at an imposing 3/197.
A few quick wickets halted the Swans' momentum briefly, before Brendan Rose (26), Nathan Lambden (23 not out) and Dylan Hadfield (23) lifted them to the competition's highest score of the day.
Swans coach Brian Keogh was pleased at his side's intent, but stressed that only half the job is done, with the pitch well suited to batting.
"You'd always rather have 350 instead of having to chase them – it was a good wicket and a fast outfield but we played well," he said.
"We probably had our noses in front of all three sessions which was really pleasing, Wally's (Michael Wallace) innings was excellent, Lachie Sperling batted really well and Luke Manders played well for his 60 odd, and then for Lamby (Nathan Lambden) to come in and hit three late sixes was great.
"300 was about a par score, and to finish on 360 was pleasing for us.
"We want to make sure we do plenty of catching work this week – they are a really great batting side so we need to make sure we catch well – 360 doesn't mean a lot unless we bowl them out."
Keogh heaped special praise on his two biggest contributors, Lachlan Sperling and Michael Wallace, who both made breakthrough knocks.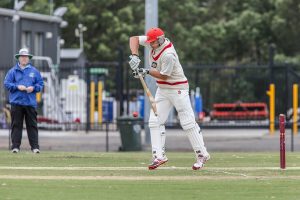 "Wally went from 85 to 95 really quickly, and then went for a shot that was probably there but obviously he didn't hit it clean enough – it's always disappointing to get out in the 90s but he was pleased – he is one of the most popular blokes at the club because he is such a great clubman, so everyone was so pleased for him – he really capitalised and batted beautifully," he explained.
"Last week against Greenvale, Sperlo was the pick of the batters on both days, and I knew a big score was around the corner – he's a class player and on Saturday he took control of the innings."
Looking ahead to next Saturday, Keogh expects an aggressive Kingston batting side to show up, but backs his side to get the job done.
"Looking at the ladder, they obviously need the six points so we expect them to be aggressive – we'll declare on our score and we imagine they will look to chase the target down," he said.
"We will go hard and expect a great day of cricket that will most likely go down to the wire."
Meanwhile, a depleted and inexperienced bowling attack has shown glimpses of a bright future, with Dandenong dismissing the lowly Frankston Peninsula for 230 on day one at Shepley Oval.
With James Pattinson and Justin Butterfield not taking the field, the Panthers were without two of their key lynchpins, but simply had to find a way to keep their top-four spot in check.
It is expected Pattinson will be available to bat next week for the Panthers once he finishes on his duties with the Victorian Bushrangers, with youngster Matt Weitering to come out of the side.
With so much riding on the Panthers putting away a bottom-four side, the loss of the two stars put a dent on Tom Donnell's plans on day one – the side in general is one of the most inexperienced Dandenong has put on the park this season, with just six players playing the entire season in the top-grade.
Interestingly, four of the Panthers players were all Springvale South alumni.
Enter a new-look bowling attack featuring Adam McMaster (3/65), a frighteningly quick prospect, and second-gamers Patrick Turner (3/28) and Weitering (2/37), while the evergreen James Nanopoulos (2/30) bowled over 20 overs.
Turner, in particular, has been highly impressive since getting his chance last round, with Donnell recently describing him as an "exciting prospect" capable of taking the club forward into the future.
The last-placed Heat took full advantage early, with Matt Gapes (54), Liam Tonkin (30) and skipper Luke Walker (74) all piling on the runs before McMaster got the Panthers going with the wickets of Gapes and Walker – the Heat then fell from 2/125 to all-out for 230, leaving them perhaps 100 runs short of par on a stellar Shepley Oval deck.
But pressure can do funny things, and with a bowling attack featuring Ben Ashkenazi, Jake Wood and Jackson Mockett, as well as the possibility of Scott Boland and Jon Holland, the Panthers must not take things for granted next week.
However, a top-four spot appears certain if the Panthers can get themselves over the line.